"To The Top" HKS Speed Ring Event – CODY MILES #LIFEONAIR
8/30/2016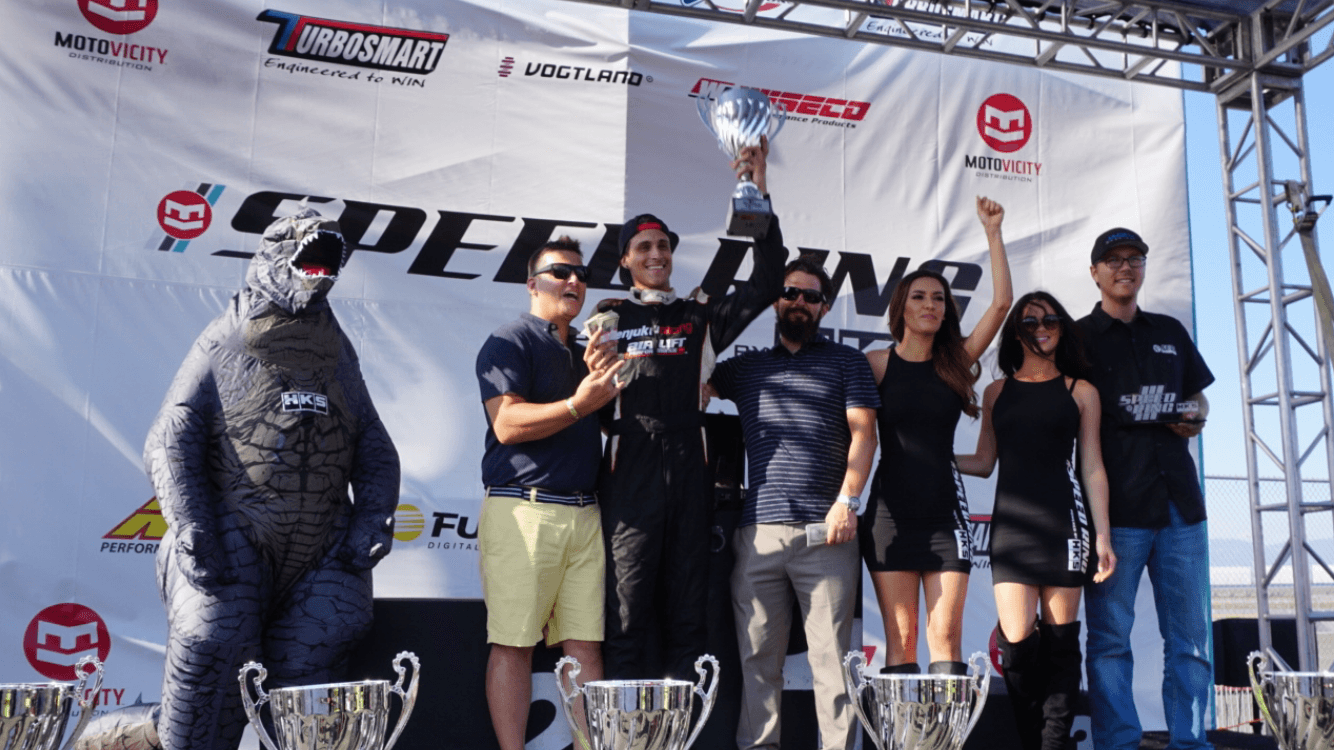 We're dropping the mic and letting Cody Miles tell everyone about his #lifeonair as he embarks on another winning (and now record setting) year on the track with his 2007 Subaru STi, fitted with our Subaru STi air suspension kit and the latest Air Lift Performance 3H control system. In his latest event, Cody set a new record for Street AWD with a lap time of 01:45.469:
"Those who follow this blog are already aware of the challenges I've been up against while trying to prepare for the HKS Speed Ring event. Last we left off, I had seven days for building an engine, getting it in and running, breaking it in and making it onto the dyno for some final adjustments. I was a little worried at that point, since we were certainly cutting it close. Little did I know it was about to get a whole lot more stressful. Fast forward to six, five, four, three, two… one day before my tuning appointment. Twenty-four hours from the dyno running, with or without me, and there I was, staring at a crankshaft on a table. I used to think seven days was a tight deadline, yet here we were with 24 hours to go. Did we think it was possible? Maybe, maybe not… did we have people expecting us to come up short? Absolutely. But I'd be lying if I said that doubt didn't directly translate into a driving force of motivation for myself and a few others. We knew we were up against a brutal deadline and that anything going wrong would keep us from our goal… but there was absolutely no way we were going to let that keep us from trying.
"So, let's dive in-
Thursday August 18th - 3 pm:
"I find myself at Renner Racing Development, alongside Peter and Damyan Tuchenishki. We had just received the block back from the machine shop so it was time to check bearing clearances and begin assembly. These details are left up to the master himself, who could easily do this with his eyes closed, Peter. Peter has a sort of sixth sense for this stuff. If he tells me things aren't right with any internal component, the engine won't be built… it's that simple. The best I could hope for was his approval of everything as it was being pieced together. Aside from him intentionally scaring the hell out of me a few times by pretending there was a problem, the entire long block ended up together and happy in about six hours. It should go without saying that without Peter's expertise and Damyan's constant support and assistance this project would've never happened.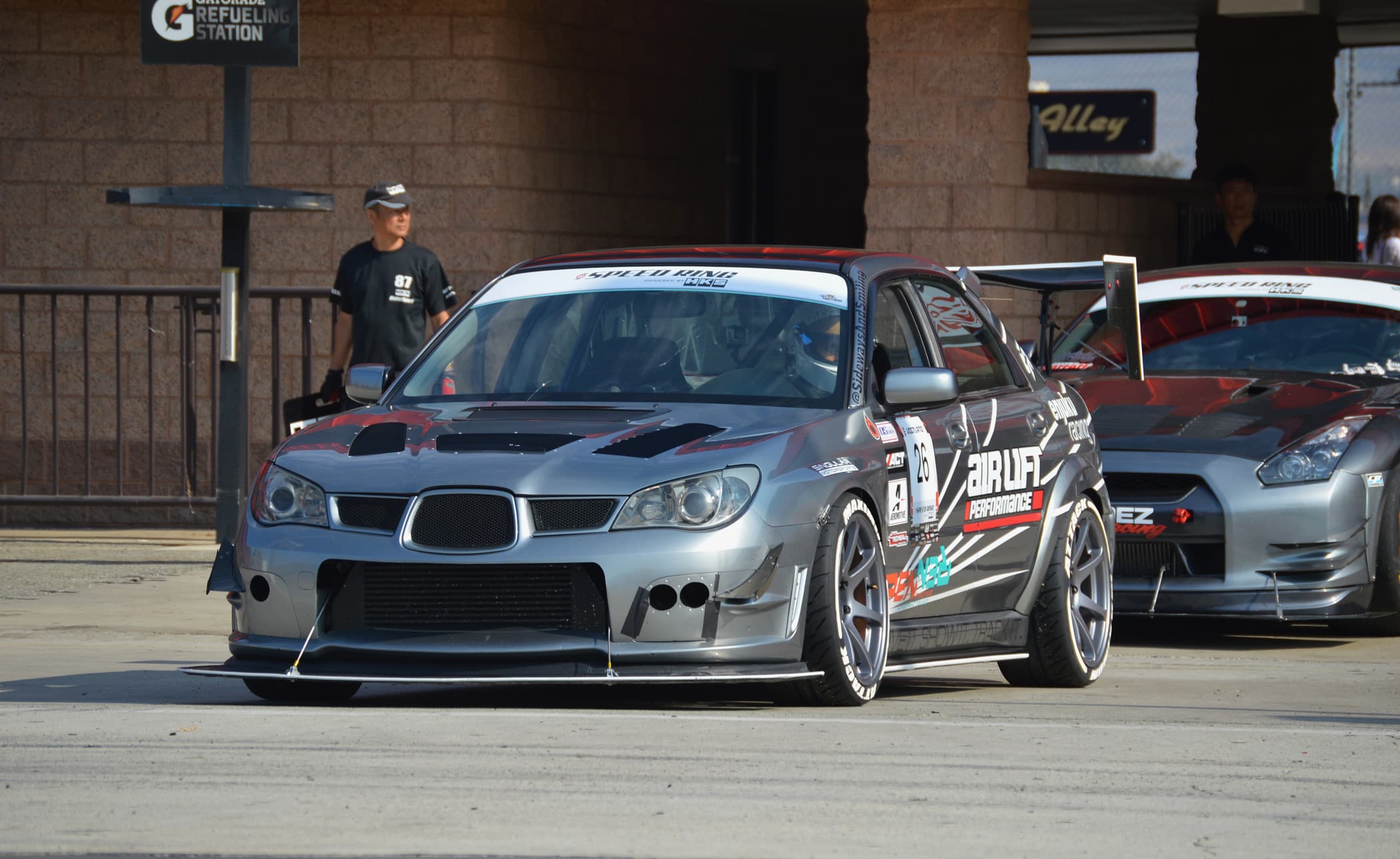 Thursday August 18th – 9 pm:
"The complete engine is loaded up and ready for its departure to my garage, where it will find its new home inside the Subaru's engineless chassis. This drive alone kills about 1.5 of my precious remaining hours, so the anxiety during that car ride was just shy of redline.
Thursday August 18th – 10:30 pm:
"I pull up to the garage with the equivalent of pure gold sitting in the back of my car. I'm greeted by my manager, Weston, who's not only willing to pull an all-nighter with me and feel like a zombie rolling into work a few hours late himself the following day… but also encourage me to complete my project and forget about work until it's done. This is another guy who has been by my side for some time now, through several past jobs and adventures. He's one of very few that I would take advice from, let alone trust to work on my car. So we unload the anything but lightweight Ej25 and begin outfitting it with fun goodies like the exhaust manifold, turbo, clutch, flywheel, etc. We then chain it to the lift, crank the death metal and begin working it into its new home.
Friday August 19th – 8 am:
"Without a single ounce of rest, the engine was installed, wired, primed and ready to fire. I took a deep breath, turned the key and viola! It fired up in no time and was sitting at a relatively happy idle! This was definitely a feeling of accomplishment so far. We just needed to make sure nothing was leaking or having issues during its first run session. Eight minutes later and we have no leaks and no issues… hard to believe, but things were actually looking good for our time frame! Weston stumbled to his truck and headed straight back to work as I outfitted the front end with its bumper and hood. Now it was time for some highway break in!
Friday August 19th – 3 pm:
"I pull up to Yimi Sport Tuning about one minute EARLY, after logging 102 break-in miles on the new engine! It was official – we had built, installed and broken in our new engine in less than 24 hours! Was it easy? Hell no, but how often do worthy feats come without a struggle?
Friday August 19th – 10 pm:
"Seven hours after arriving, we are tuned and ready to hit the HKS Speed Ring! More work to be done before then? Of course. The work never ends. Now it's time to get the car back home, mount the splitter up and begin packing for the weekend. Yes, starting to pack for a weekend of racing at 10:30pm the night before departure isn't exactly my style, but everything we were doing was extremely far from the norm. After two hours of wandering around, completely drained of energy, my dad and I got the trailer loaded up and ready to go. Then it was time for sleep, especially since I had been up for 41 hours straight at that point. ZZzzzz...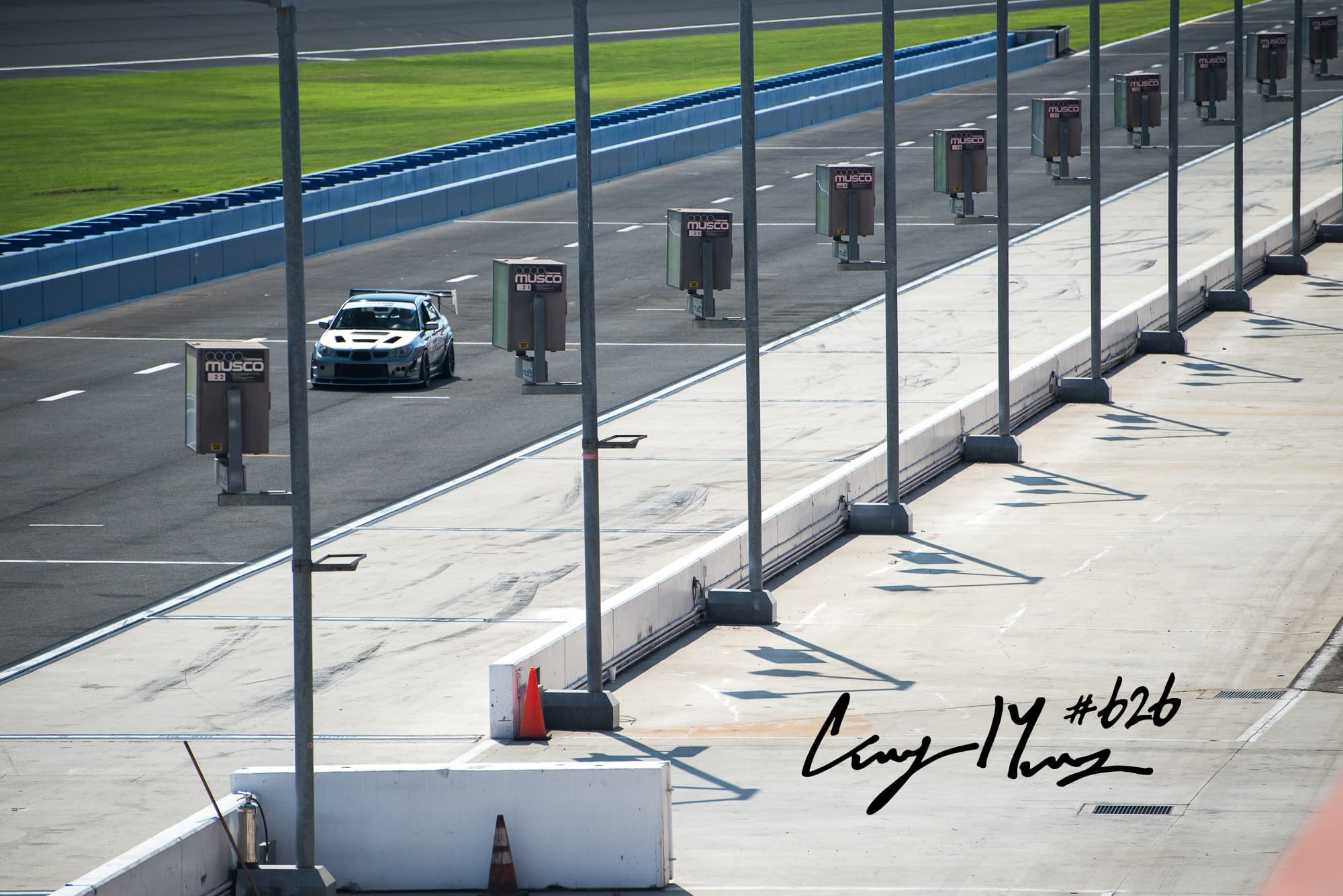 Saturday August 20th – 5 am:
"My alarm clock was screaming at me to get up and begin the trek to AAA Speedway.
"Now that all of the hard work was behind us (I hoped), it was time to get some practice in and verify that everything was, in fact, operating correctly. Putting a racecar back together with the level of exhaustion we were experiencing often leads to things being forgotten or overlooked. So, at about 9am I was out on track cruising around with the simple goal of proving out the car, making sure that everything was good to go. Not sure how we managed this, but everything felt perfect. Oil pressure was looking good, water temps were staying at a cool 190º and, overall, everything was operating flawlessly. I ran a few laps at a mild pace and pulled in with a 'holy crap, we did it!' feeling. That right there was an accomplishment in itself for me and everyone involved. We threw this engine together at the last minute and didn't have a single issue to face the next day at the track! Those that race can understand how amazing that is. Things rarely go as planned when it comes to racing. Whether it's motocross, RC cars, or auto racing, life looks for every possible chance to throw a big, fat wrench into whatever plan you thought you had. "I continued to drive the rest of the practice day at about 70-80%, waiting for that 'oh yea, that's what we forgot' feeling, but all was well and I was on top of the world! Everything felt great. From handling characteristics to power deliver, the car just worked. It was that simple. The one issue I found, however, was that the car kept wanting to cut out and lose all power momentarily at somewhere around 160mph. We went through a couple of ideas, mostly focused on boost control and fuel delivery, but nothing seemed to help. So, I was living with the same issue that I had back at Road Atlanta, where I was having to run the long straight at about 75% throttle, in order to hopefully avoid the power cut that seemed to plague 6th gear. This was annoying and would obviously hurt lap times, but it wasn't a show-stopping issue, so I really couldn't complain. Aside from that mysterious 6th gear issue, practice on Saturday went well and I couldn't wait for competition on Sunday! At this point, it was time to prep for Sunday, so I swapped over to competition tires, added a couple gallons of fuel and made sure to snag some shots for the 'Gram.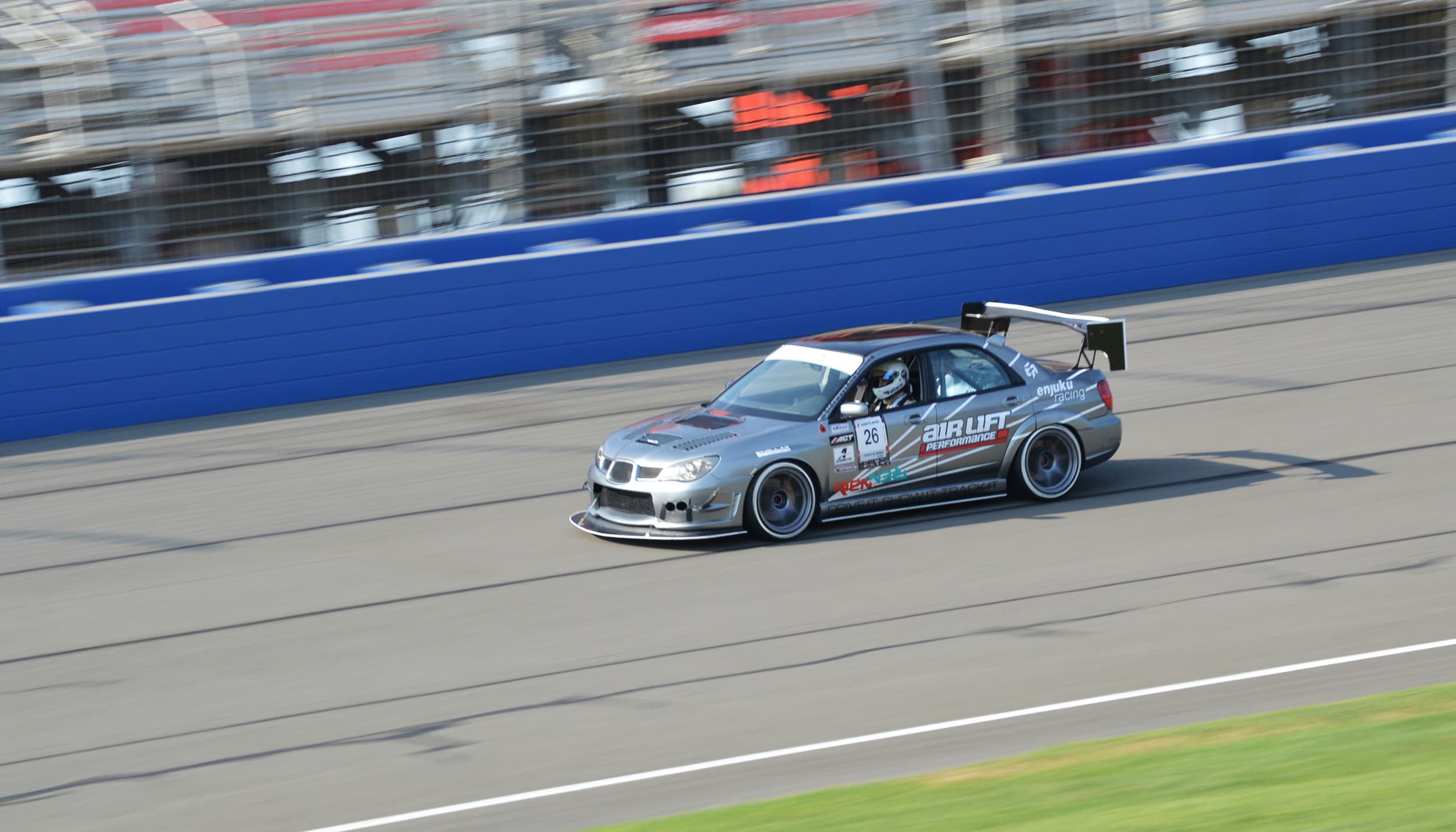 "By now, exhaustion was really setting in and I needed to quit for the night, so I headed to the trailer and laid down. The big mistake I made at this point was not turning the lights off immediately, because apparently overnight stay was not permitted... news to me! So, after attempting to dodge the not-so-awesome security guard once he informed me that I had to go, he came back a second time and sat outside my trailer waiting for me to leave. The funny thing about this is that I was left at the track with the racecar, which was now all tucked in and garaged, and that's it. So. I gave myself up and tried to reason with Johnny Law, but he wasn't having it. I was then escorted in the security vehicle to the front gate, where I was dumped on the curb with a friendly farewell of 'Call a cab, hotels are that way ->.' I couldn't help but laugh at the situation as I tried to come up with some sort of plan as to where I was now going to be sleeping. No friends were near enough to come rescue me and I certainly wasn't about to pay for a hotel… so I got really creative and, after some details that I better keep to myself, I ended up just fine. ;)
"Sunday morning was finally here and it was time for some competition! We completed our routine drivers meeting and got a feel for how the day was going to play out. The unique thing about this event is that it had all kinds of cool stuff going on in addition to our normal competition. A car show, stunt bike show, and GTR shootout were all in the mix, which brought out a nice chunk of spectators and cameras. Us time attackers don't see spectators very frequently, so that was a nice change! Regardless, it was time to suit up and focus in on today's objective. We had already achieved the impossible just by making it to the event so, logically, we should try to keep that streak going and shoot for a win or even a new record! My first session went hot and so did I. I couldn't wait to get out there with nice morning temperatures and just rail this car around the Roval. This track, specifically, eats engines alive, so I had to keep that in mind. I lost my second engine to this track at the end of 2015, just like several of my friends have in the past. Our boosted engines don't exactly enjoy being held full throttle for 15 seconds while leaning sideways on a bank that causes oil to fall toward one side of the engine… it's kind of a recipe for disaster.
"Either way, I still came to go fast. The car felt amazing with the new tires, compared to the previous day. The engine was maintaining its happy state as it pulled me down each straight without skipping a beat. The suspension was dialed in and feeling incredibly stable, especially at high speeds around the oval bank through turns 1 and 2. Oval banks obviously aren't my strong point since I really never get to experience them, but it's nice to have a setup that performs flawlessly through them. When you exit a corner knowing damn well you can hit it much harder next time around, that's a fantastic feeling. Acknowledging that you are what's holding the car back from going faster is an intimidating, yet incredibly rewarding and eye opening, realization. Having equipment that can stand up to whatever I'm willing to put it through is a must and it's something I wouldn't have any other way. Realizing that my own fear of hitting that wall at 140mph is what's holding me back through that corner, and not my equipment is exactly how I want it. Equipment that you aren't having to second guess is the only way to really push limits and figure out where that edge is.
"I continued with that same strategy of pushing myself throughout the rest of the day and ended up running three sessions. I was able to put down a 1:45.4, which I was really happy with, since the fastest I did in practice was a 1:48. Something about the adrenaline on competition day, along with fancy new tires, never fails to cut lap times down. After looking into the track record for my class, I saw that I was just .01 seconds off of it! One hundredth of a second! Maybe next time I'll have the 6th gear power cut issue figured out so I don't miss another record by a hundredth! However unfortunate not breaking this record was, I was still sitting at the top of my class with the fastest time by nearly four seconds!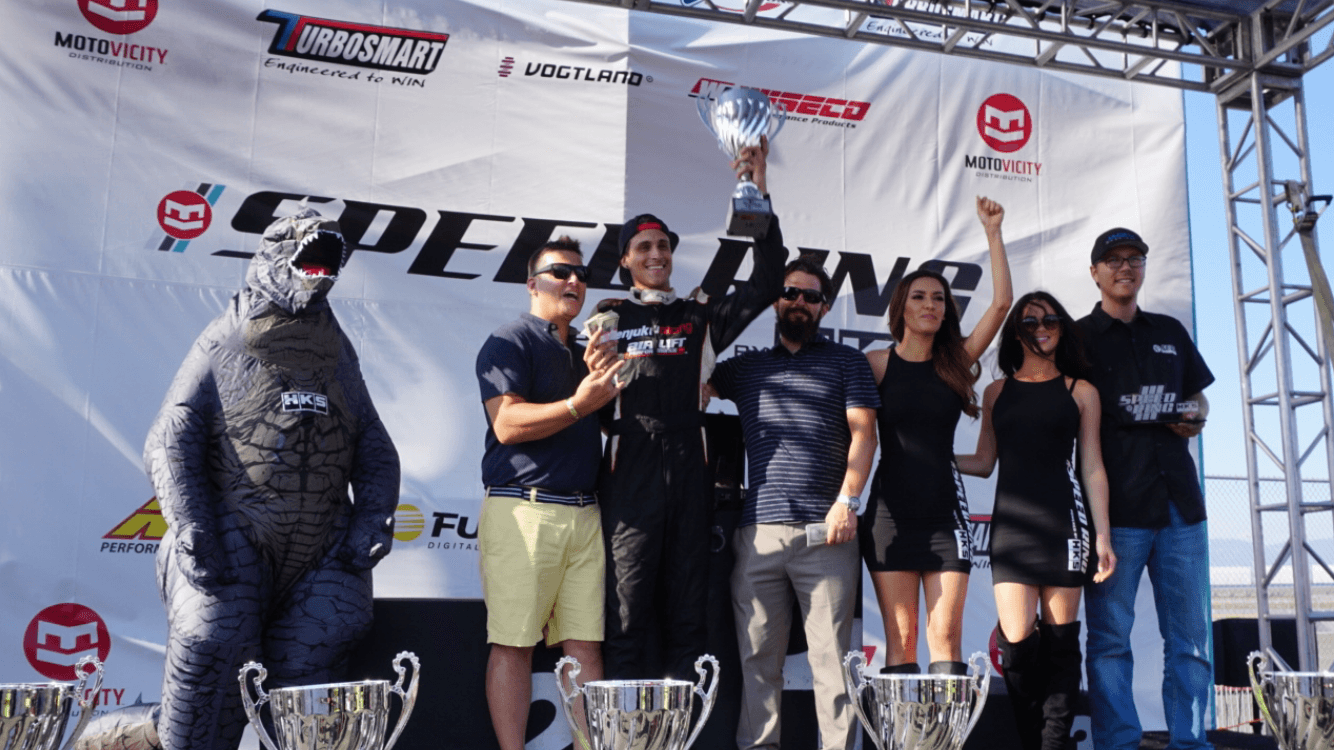 "The awards ceremony came around shortly after our last session. It's always good when the announcer presents himself with a briefcase containing over $30,000! The majority of this purse was dedicated to the GTR shootout between HKS' Nobuteru Taniguchi and Lyfe Motorsport's Cole Powelson, but, either way, no one can complain about cash prizes! Starting with the Street Class, Jason Dienhart of Global Time Attack began announcing names, one of which was mine. 'First place, Street AWD goes to Cody Miles with a time of 1:45.4.' I ran up on the podium with an ear-to-ear smile that no one was capable of wiping off my face. So, here's how this ends, standing on top of a podium in front of a flood of cameras and supporters, holding a stack of cash in one hand and a massive trophy in the other.
"Feeling on top of the world at this very moment, I thought back to just two weeks before when I was contemplating quitting due to being unable to stretch my empty, blown out wallet any further. It's funny how things can turn so quickly. It may take an absurd amount of work, but the hardship quickly turns to a blur once the payoff becomes tangible. I'm lucky enough to be surrounded by companies and individuals that believe in me because without them this lifestyle wouldn't be possible. I thank Air Lift Performance for the continued support and for allowing me to reach out to all of you with this story showing the glamorous side of racing as well as the brutally harsh reality that sits behind the podium. To all other sponsors, especially Renner Racing Development and Enjuku Racing, thank you for believing in what I do and continuing to stand by my side.
- Who's ready for an upcoming film?
Get The Latest from Air Lift Performance
Want first access to big sale events, performance suspension news, and exclusive drops that sell out quickly?
Subscribe To Our Newsletter