SPOTLIGHT: Anton Moore's Custom 1956 Corvette
12/19/2019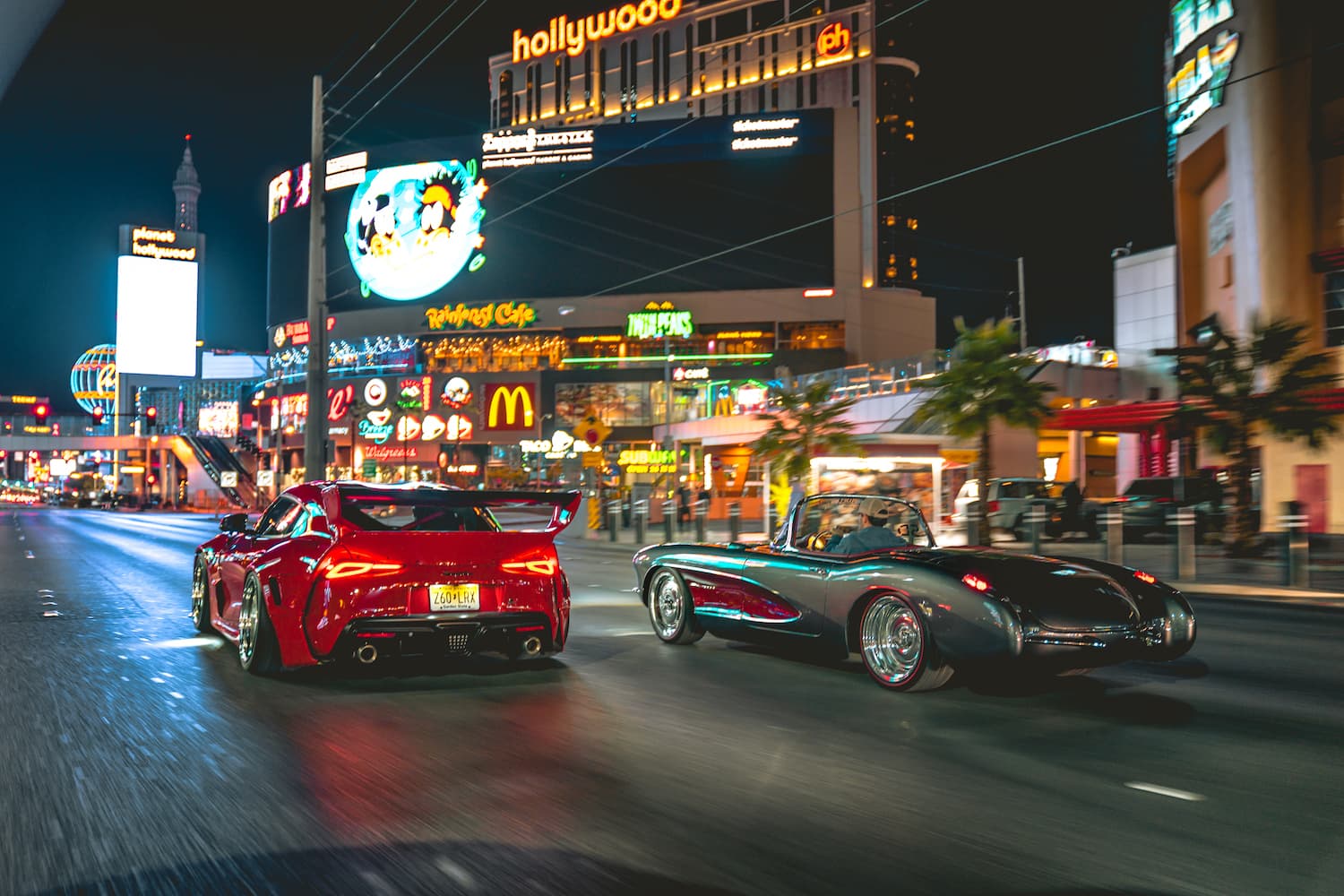 A '50s Corvette might just be the physical embodiment of the American Dream – the iconic body style and the powerful V8 engine that moved it always made a big statement back in the day.
The '50s Corvette you're about to see is Anton Moore's version of that dream.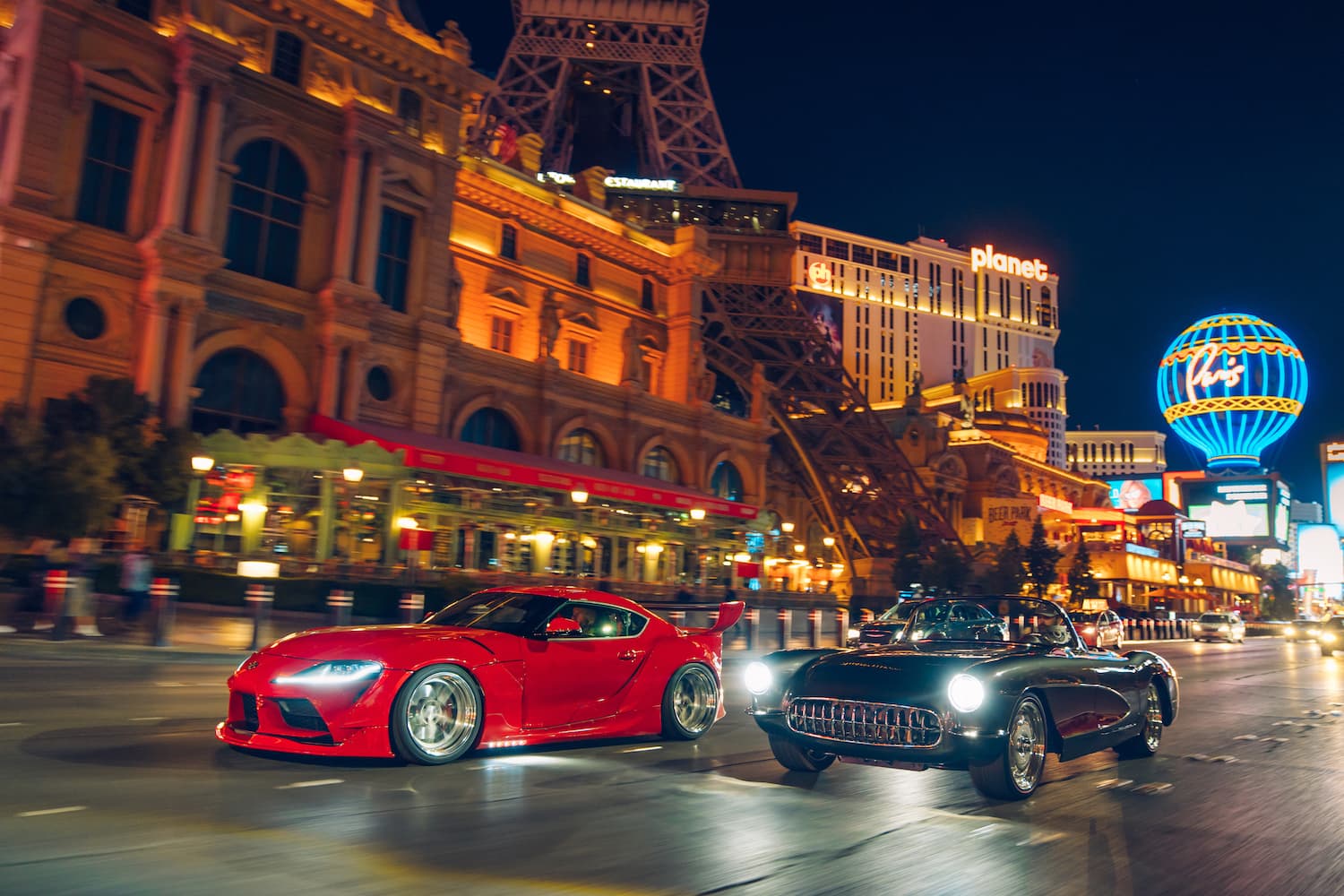 His Corvette is an original 1956 with a fiberglass-body, jam-packed with subtle mods. It brings the body straight from the '50s and right up into the present. The overall look has a certain modernity about it, while still being true to the original design.
Shaved front signals, rear side bumpers, deleted radio holes and a shaved antenna are just a few of the touches you might not spot at first glance, but combine for a striking build. Anton also got rid of all the mirrors and locks for an ultra clean look.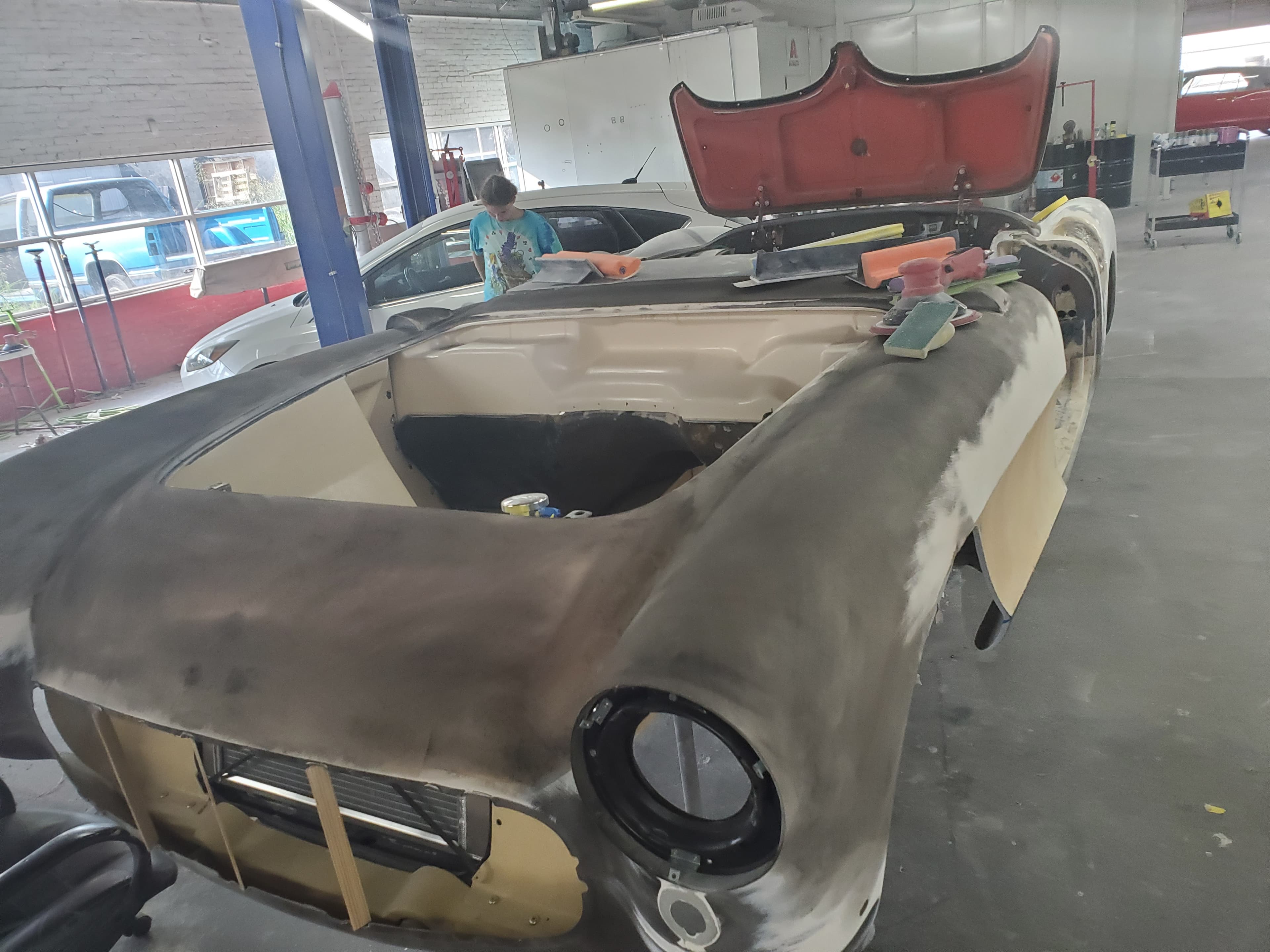 The car was originally purchased as a rolling shell in Florida, but Anton knew it was going to need to get a proper drop, so the car was sent to Phat Phabz for a one-off frame to accommodate that low look, achieved with Air Lift Performance parts throughout.
The wheel-wells are filled by 18″ US Mag billet wheels and custom Diamond Back red line tires complete the retro-modern look. One of the coolest touches are the modified billet caps which accept original 1956 Corvette spinners.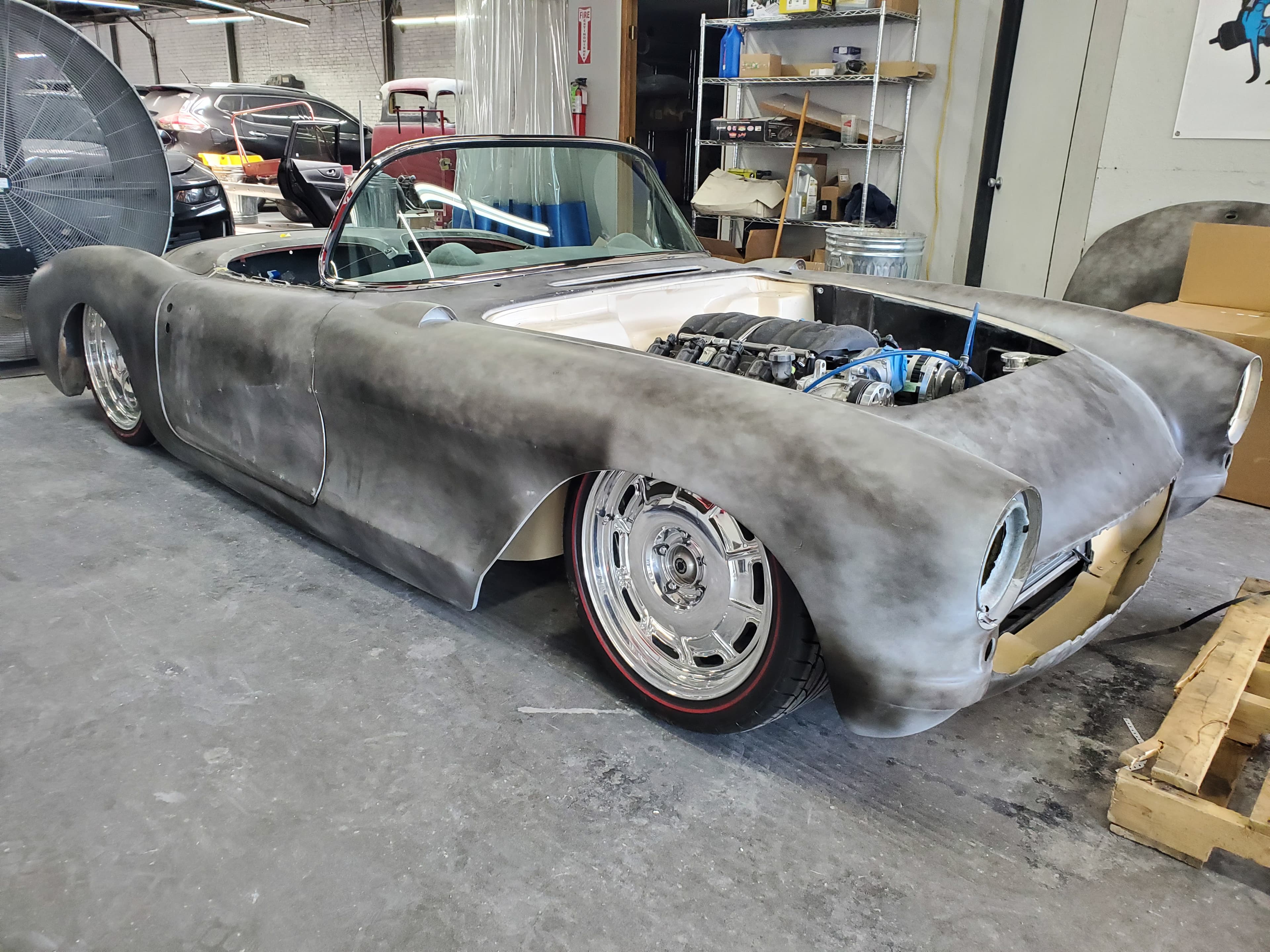 The car is now powered by a custom-built 6.2 V8. It is based on an iron block LS3 and is rated at 525hp – more than enough to spin the rear tires in such a light body – and it puts out over double the horsepower of the original engine.
A new crate 4l70e transmission and a shortened 2015 Silverado 12 bolt rear end helps with power transfer. The car runs 5×4.75 axles and 2000 TransAm rear brakes, too.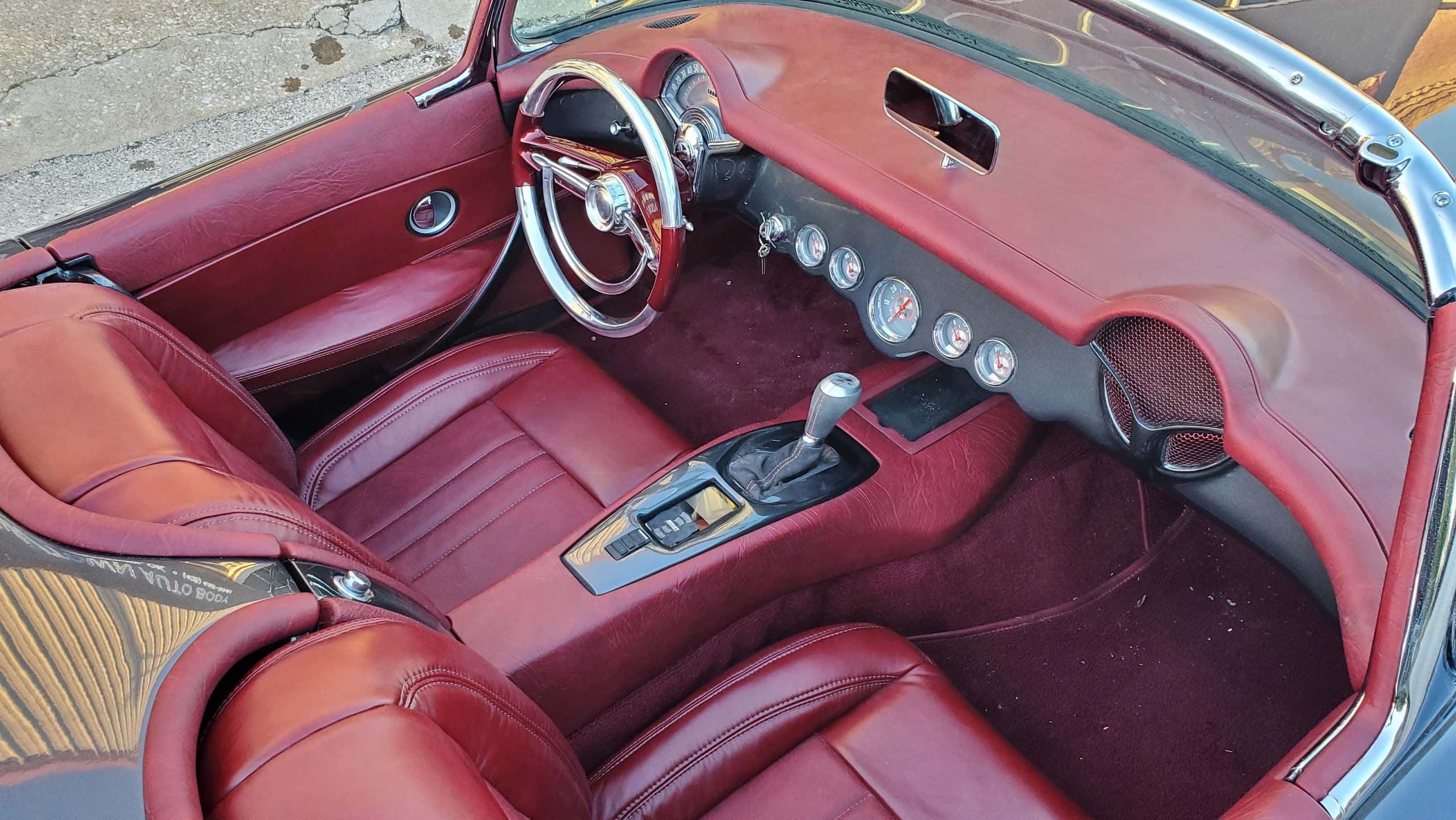 Inside the car, the air ride is controlled by Air Lift Performance's 3P system, housed in a modified 2018 Camaro shifter console. It also features a full stereo system exclusively featuring Memphis products, built by SD Tint and Audio in Shawnee.
The icing on this cake is the jaw-dropping paintwork.
Anton painted the car himself with Axalta products at his shop, Downtown Autobody. The red scallop accentuates the prominent body line and the vibrancy of the metallic grey finish is stunning.
Special thanks to Anton for sharing his incredible build and his #lifeonair with us!
Get The Latest from Air Lift Performance
Want first access to big sale events, performance suspension news, and exclusive drops that sell out quickly?
Subscribe To Our Newsletter