Pitch Black
1/20/2012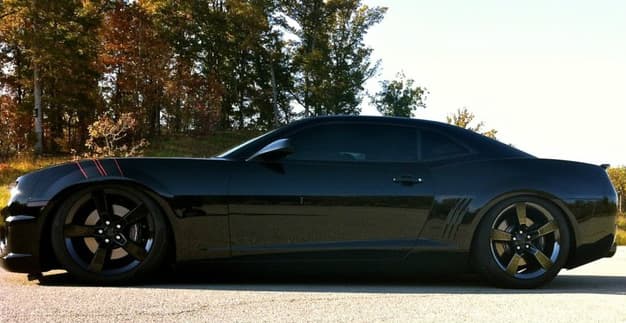 We have all been outside on a night with no moon, no stars, or lights for miles and miles…. You know the kind of night it is so black outside you cannot see your hand in front of your face. Well, I have stumbled on a ride that makes that kind of black look just plain silly. I came across Bryan's 2011 SS/RS on Camaro5 forum and was immediately stopped in my tracks, between the ground crushing stance and the overall attitude of the car, I had to find out more!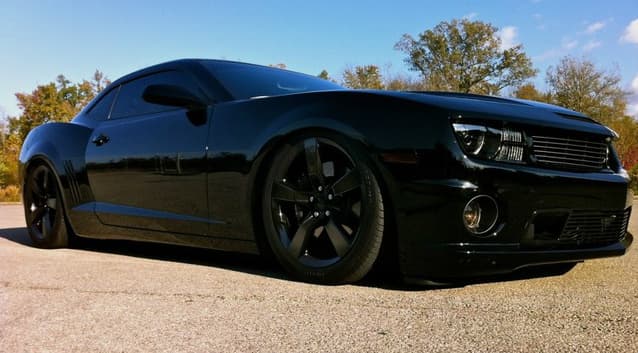 From the black GM heritage grill to the rear RK Sport spoiler, everything has been treated to a dark hue. The once polished SS rims have now been powder-coated black chrome. Smoked black lenses have been fitted front and rear to match the acres of 20% tint it took to cover all the windows. As if that wasn't enough black, Bryan decided to go with a flat black driver's side Grand Sport stripe outlined in red to pay homage to GM's racing roots.
Of course, this black beauty is not just all looks! Performance has been enhanced with a Trinity 1000 programmer, gears are switched via a Hurst short throw shifter, and the only thing louder than the Magnaflow 5″ axle back competition exhaust is the 12″ Kenwood sub powered by a 400-watt Kicker amp blasting away in the trunk. A supercharger is in the plans if sponsorship can be secured.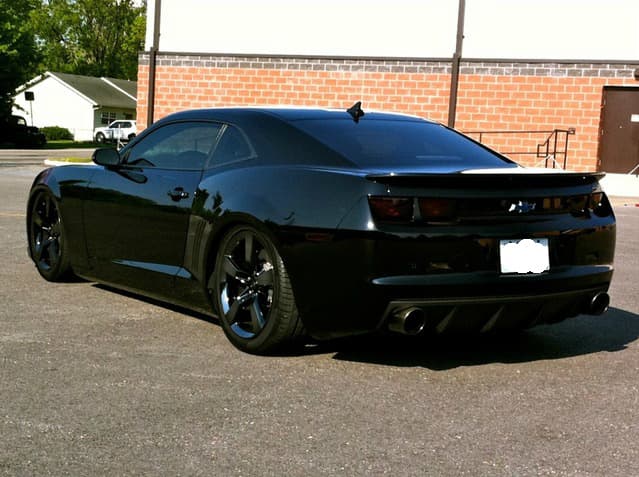 How does Bryan drive his prized Camaro so low? I thought you would never ask!  The answer lies in the fully adjustable performance-inspired Air Lift Camaro kit Air Lift Performance suspension Bryan decided to toss the GM suspension in a dark corner because of "the phenomenal ride and handling that air suspension provides!" He also wanted the killer stance without dealing with the road rash that lowered vehicles normally have to endure. Controlling this Camaro's altitude attitude is Air Lift's new digital Auto Pilot V2, with the push of a button Bryan can choose from 8 different preset heights.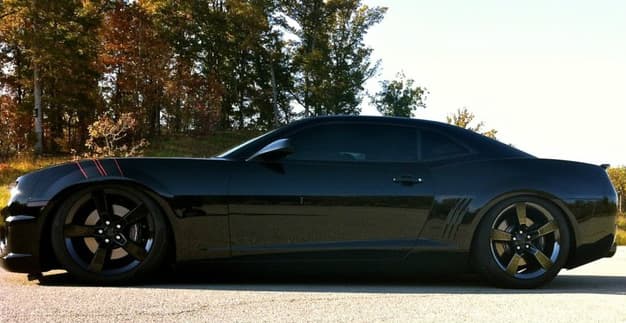 If you like carving corners, want improved ride quality and full height adjustability for your modern muscle car contact your local Air Lift Performance Dealer today!
Get The Latest from Air Lift Performance
Want first access to big sale events, performance suspension news, and exclusive drops that sell out quickly?
Subscribe To Our Newsletter