Knife to a gun fight: Air Lift Mustang @ UTCC 2013
7/23/2013
There's a revolution happening in the air suspension industry, and Air Lift Performance is hugely proud to be leading the way. For too many years the world of air ride has been frowned upon when it comes to hitting the track or using a car 'properly'. Not anymore. In 2013 Air Lift is here to prove that performance isn't just in our name; it's what we create with every one of our unique air suspension setups.
So what better way to demonstrate this than by taking part in one of the most-challenging race events out there? Hosted by Grassroots Motorsports – THE hardcore amateur racing magazine – the annual 'Ultimate Track Car Challenge' is exactly as the name suggests; the ultimate test of man and machine featuring only the fastest cars and drivers around (including Mad Max Papis, driver in Indycar,Lemans and Nascar and Kevin Conway of Nascar fame). Put simply, if you can prove yourself in this environment, you know your product performs!
The easy option in this situation would've been to turn up in a dedicated track car, but Air Lift Performance is designed for those who want to terrorize the track AND street with a single suspension setup. Instead, Air Lift's Brian Vinson, Ian Cain and Rex Litwiller took along a 2005 Mustang GT complete with factory seats, air conditioning and standard aero! Under the hood its 4.6-litre V8 features a Vortech V3 supercharger complete with Flowmaster headers and a MRT exhaust system for a decent gain in horsepower over stock.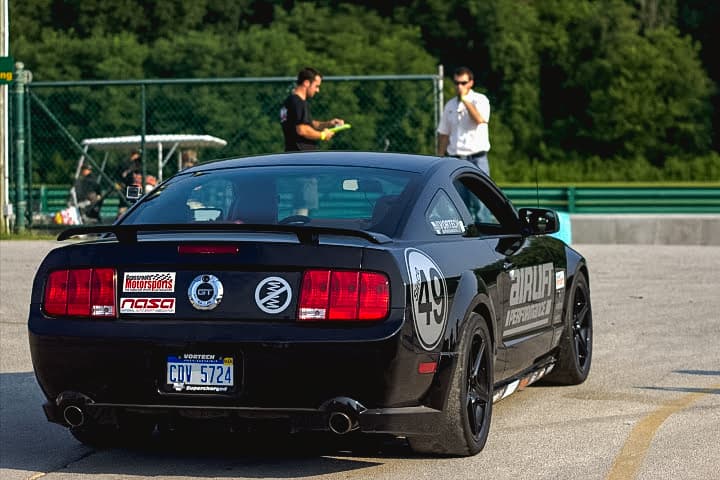 In the handling department, a Baer 6P+ brake package with Hawk 9012 pads improve the stopping power while the ONLY suspension modifications include a Hellwig rear swaybar matched with our performance air suspension setup. No other handling modifications were made – no bushings, strut bars or roll centre adjusters. In fact, the air suspension setup currently fitted has seen over 25,000 miles of use and multiple track days!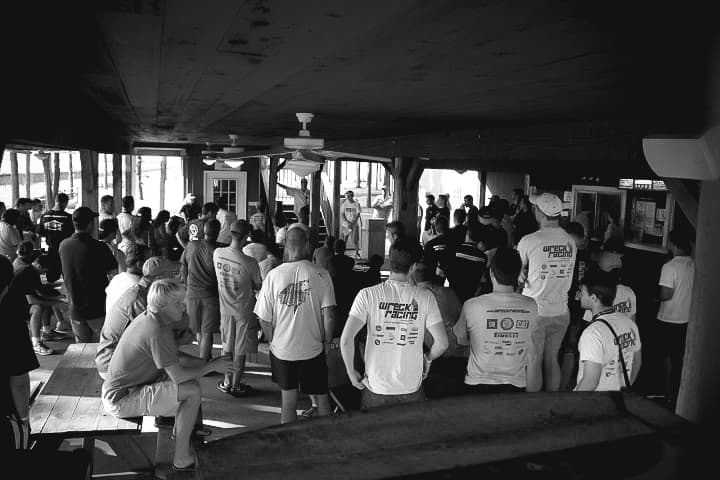 With the car checked and ready to race, Brian, Ian and Rex made the 650-mile trip from Air Lift HQ in Lansing right across to Virginia International Raceway for the UTCC 2013 challenge. The event, now in its 8th year, welcomes a total of 64 competitors with many cars being fully-prepped wheel to wheel race cars. So how would the ONLY entrant running air suspension fare against the more 'traditional' rivals? Air Lift Driver and Performance Engineering manager Brian Vinson explains how the day panned out.
Session 1: 'This was a warm-up where they took your times to place you according to speed in the field, but which did not count towards the overall event results.  This was at 9:00am in the morning. We were in the A or "faster speed" group.  Our time was a 2:13.46.  Car was running and handling well.  Driver was remembering how to drive the track since it had been a full year since we were there!  Ambient temp was 85F and track was 95F, the coolest of the day.'
Session 2, 11:25 AM: 'Temperature shot up to 96F ambient and 116F track.  We made a damper adjustment to a stiffer setting to help settle the car faster over the curbing at 120mph and adjusted tire pressures to optimize the grip of the Pirelli slicks.  We were just getting started on lap 2 when the Element Tuning Subaru BRZ went up in flames coming into the esses.  The car was burning hard under the hood as I drove by and there was a ton of oil laid down on the track.  The track officials red flagged us to put out the fire and clean the track so our time set was only a 2:15.  While the time was slow, the data was indicating that we were certainly handling well with lateral G-forces peaking above 1.3G.  However, this level of cornering forced me to spend a lot of energy trying to stay in the OEM leather seat and factory seat belt –  I literally hit my head on the roof almost every time I hit the curbing in the esses!  Note to self… race seats next time!'
'As with almost all tracks, available grip decreases with increasing temperature. Getting a fast time earlier in the day is better as it gets more and more difficult to go faster as the day gets hotter. It's safe to say temperature was our only nemesis on the day, causing our Mustang to lose power as the supercharger heat soaked the engine forcing water temperatures to rise on the long straights of the track. We've never ran the car in this kind of heat before nor had we seen straights this long. I expected our top speed to be in the 140+ range, but we only saw 132mph! As a comparison, the Subaru last year had a 143mph top speed.'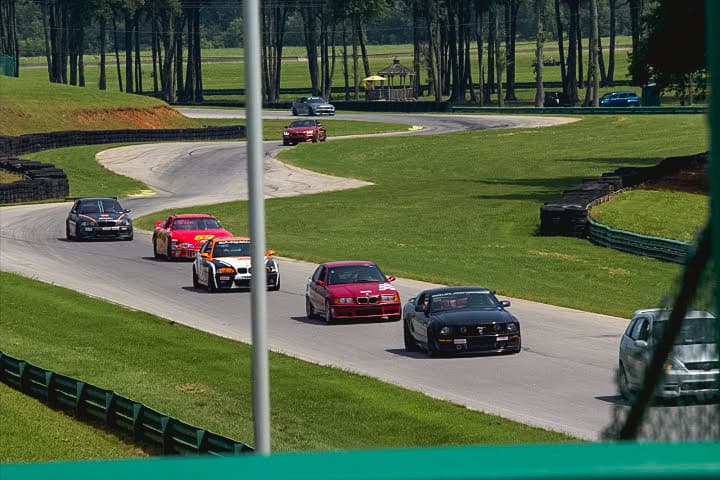 Session 3, 1:30PM:  'Ambient 98F Track now 123F. After rotating tires and resetting pressures, we hit the track again fully expecting to rip off a fast lap.  However, some issues with traffic early on robbed us of a better time as the engine water temp climbed after 2 laps causing us to slow down to cool it off.  Even after taking it easy the car was down on power thanks to the heat so I brought it in early and called it quits, yielding a disappointing 2:13.10.  Again, the handling balance was great (suspension working especially well) but the lack of power was hurting us bad.  And I can't say it was my finest moment of driving!  We also had developed a really bad vibration over 80 mph caused by excessive rubber pick-up on those fat Pirelli slicks.  I didn't know this at the time so I had a little voice reminding me to pay attention in case the vibration was powertrain related.'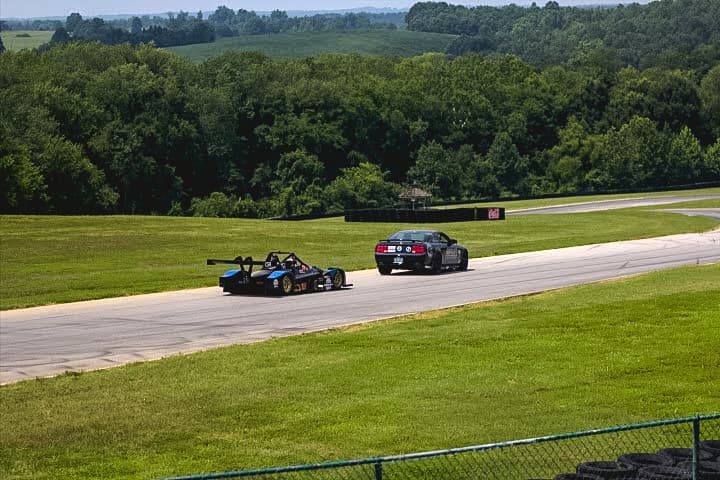 Session 4, 3:30pm: 'SWEALTERING HEAT!  98F air, 132F track!  We swapped out the LF tire since it had a large blob of rubber that was fused to it causing a large part of the vibration noticed in the previous session. Just before heading out to grid we started the car and it sounded funny. We quickly jacked it up and discovered the header to downpipe bolts loose.  So we tightened them and figured we would head out and see if the vibration was better, not expecting much in the way of lap time because it was so hot.'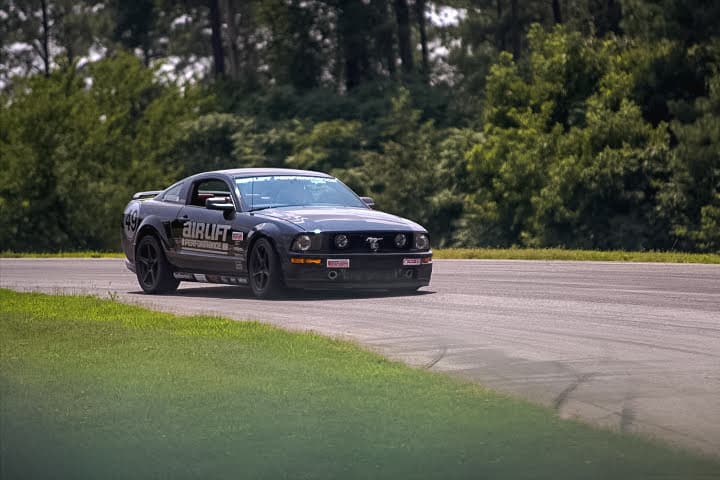 'With only 10-minutes left at this point, I took a slow out lap to keep heat at bay and feel the car out.  Vibration had improved so I decided to go for it.  With a good exit out of 17 I ripped down the front straight and started what turned out to be my fast lap. Clear of traffic I was in my element, attacking the track with much more enthusiasm!  And to our surprise, I lopped off almost 2 seconds of our previous best, laying down a 2.11.872.  Just under a second slower than the Subaru had been last year with a ton more top speed.  If I had managed the same performance in an earlier session, we would have been faster yet.'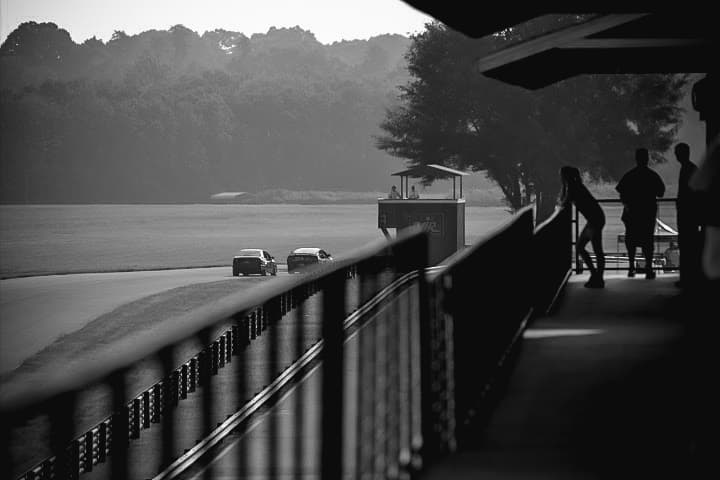 With the event finished the results speak for themselves – 'Fastest Mustang' on the day beating rivals including a RTR, Boss 302 and a full race-spec Fox Body! As well as this award, the Air Lift Mustang put in a time that was only beaten by dedicated track cars with no street premise – no cars in front had air con, standard aero and factory seat belts like the Air Lift Mustang! It's a fantastic result given the level of tune as well as being the only entrant running a full air suspension setup. With a little less heat and full power available who knows how fast the Air Lift Mustang could've gone? I guess we'll have to return next year and find out!
Finally we'd like to say a massive thank you to Grassroots Motorsports Magazine for the invitation to the event and allowing the Mustang to hit Virginia International Raceway. For more information on the UTCC challenge and magazine, please visit http://grassrootsmotorsports.com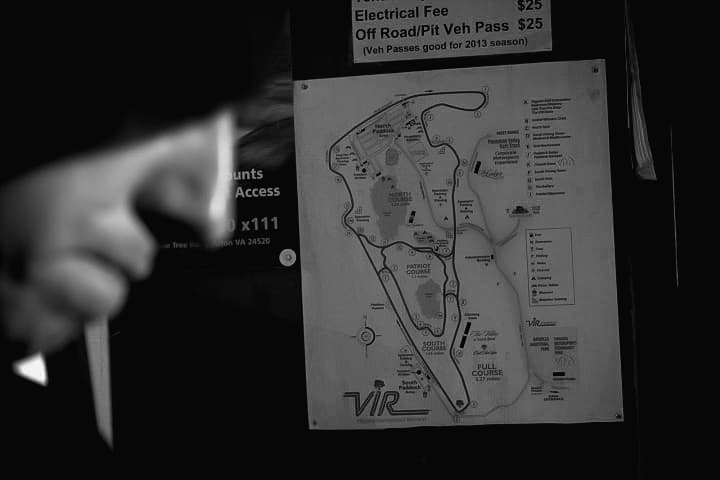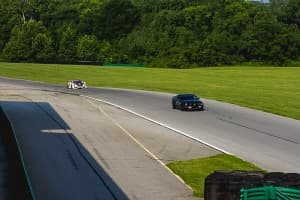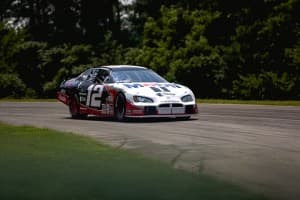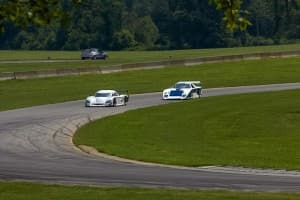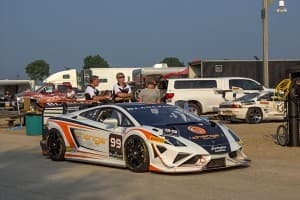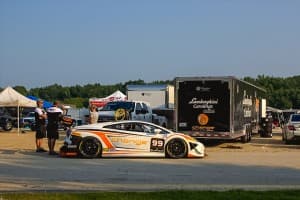 Get The Latest from Air Lift Performance
Want first access to big sale events, performance suspension news, and exclusive drops that sell out quickly?
Subscribe To Our Newsletter