BMW F30 (3-Series) Threaded-Body Air Suspension Kit
9/26/2016
If you've got a BMW, you already appreciate sporting prowess, elegance, and comfort the vehicle provides. The BMW F30 is the world's best-selling premium car, making it the perfect candidate for an Air Lift Performance makeover – putting your BMW on the ground and giving you the extra sporting dynamics that you're looking for.
There are lots of options for lowering your BMW, but nothing gives you versatility like air suspension does. Coil springs can get you low, but they can't give you adjustability at the touch of a button. With air springs, you don't have to worry about any of those lowered car problems, like bottoming out or scraping the undercarriage. Plus, they give you the absolute best in ride quality. After all, you're literally riding on air!
In the front, Air Lift Performance designed a kit that features double-bellow air springs and threaded-body, monotube dampers. Meaning, you can not only adjust the height of your BMW by changing the air pressure, but also by spinning the lower mount up and down. The dampers are completely customizable to your needs, with adjustable rebound and compression, allowing you to tailor your ride and performance characteristics. If that wasn't enough, it's all topped off with camber plates for geometrical adjustment, all working together to drop you 3.6" from stock height!
The rear kit utilizes a compact, bolt-in, double-bellow air spring, giving you the simplest installation with superior spring rates and load holding capabilities. This set-up is matched with threaded-body, monotube dampers, also featuring adjustable rebound and compression, giving you the ability to drop up to 5.1" from stock height.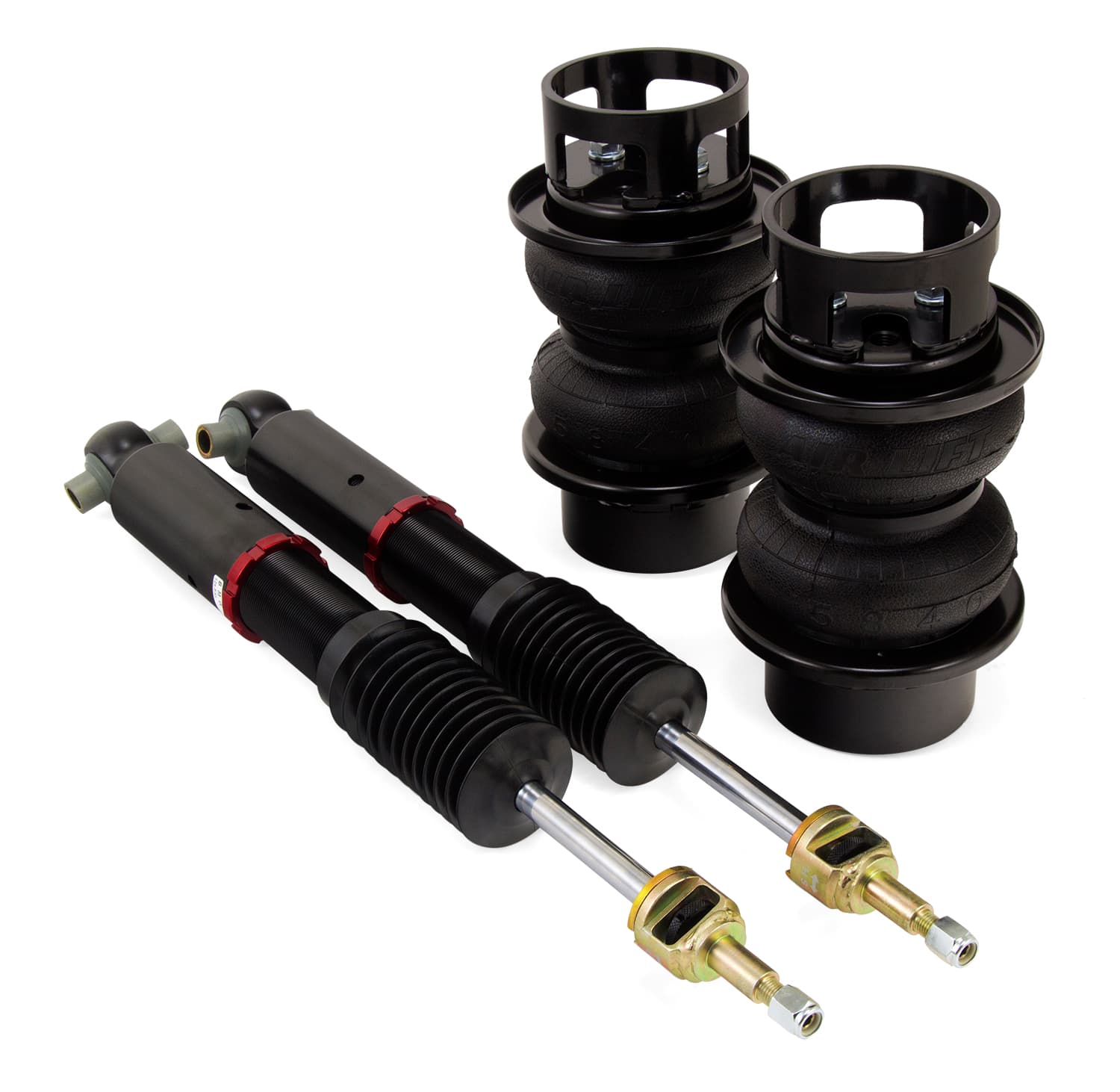 Installation is simple with Air Lift Performance's detailed instruction manuals; if you have the skill to wire a stereo or swap suspension components, you can have your car on the ground or tearing up your favorite road course in only a matter of hours. Only basic hand tools are necessary to complete the job.
As the leader in air suspension products for over 60 years, Air Lift Company is committed to delivering quality parts that fit, work, and last. To ensure longevity for the customer, the key suspension components have been tested on a durability rig for over 1 million cycles, which equates to 100,000 miles. With a one-year, unlimited-mileage warranty — not to mention the Air Lift reputation for great customer service and technical support — you can purchase this kit with peace of mind.
MODEL FITMENT:
BMW 3-series (except M3 models)
2012-2016 F30 – AWD and RWD models with a 3 bolt front upper mount.
INSTALLATION DETAILS:
Modifications Req. Front: None
Modifications Req. Rear: None
Get The Latest from Air Lift Performance
Want first access to big sale events, performance suspension news, and exclusive drops that sell out quickly?
Subscribe To Our Newsletter