SPOTLIGHT: Joseph Cummins' 1997 E36 325i
6/15/2019
Over the past decades, we've proved that with an Air Lift Performance suspension you really can have your cake and eat it too.
But there's one little misconception which still irks us: air is only for slamming your car's ride height when stationary. In reality, Air Lift Performance suspensions are all about driving low, and parking a little bit lower – something this Brit, Joseph Cummins, agrees with.
Air suspension is the perfect solution for those who love the lowered look but still want the flexibility to be able to raise their ride height to clear obstacles such as speed bumps and poor road conditions.
Sure, you can build a car that sits slammed on its sills in a car park, but what's the fun in it if you've gotta raise it 4+ inches just to make it drive?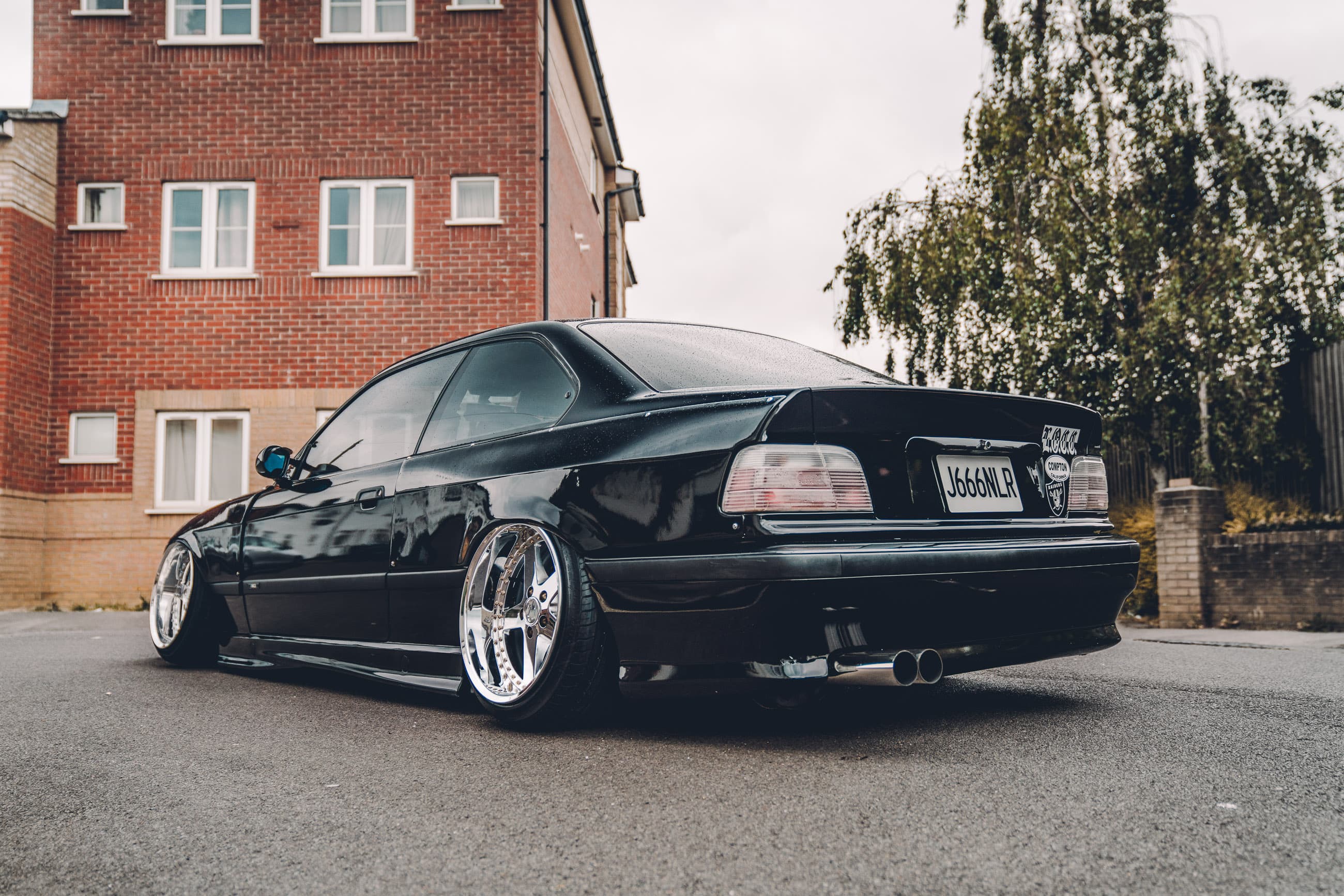 Joe's 1997 E36 325i is the epitome of #LifeOnAir.
Not only does it sit only millimeters over the staggered Work Equip wheels, but it drives just as low too. When aired completely out, it sits nearly 4 inches lower than the stock height. That's what we're talking about.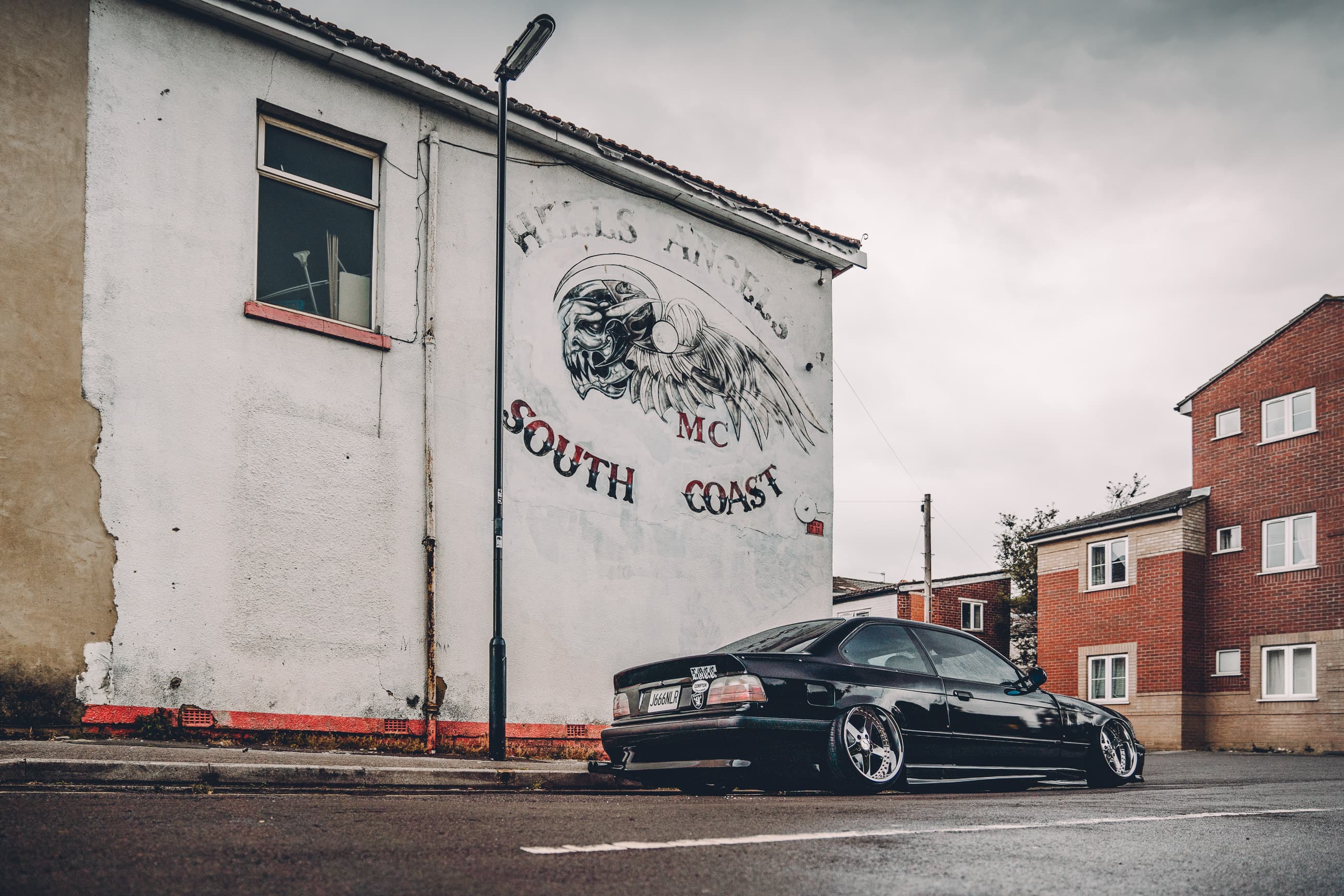 Getting the E36 to this level didn't come easily, however, or rather getting the staggered split rims to tuck and drive at any height. We're talking double stagger here, by the way – staggered widths and diameter.
But that's not all! They are 5x114in fitment rather than BMW's 5×120. Nothing is quite as simple as it looks at first glance with this car, there's serious thought and ingenuity in the style.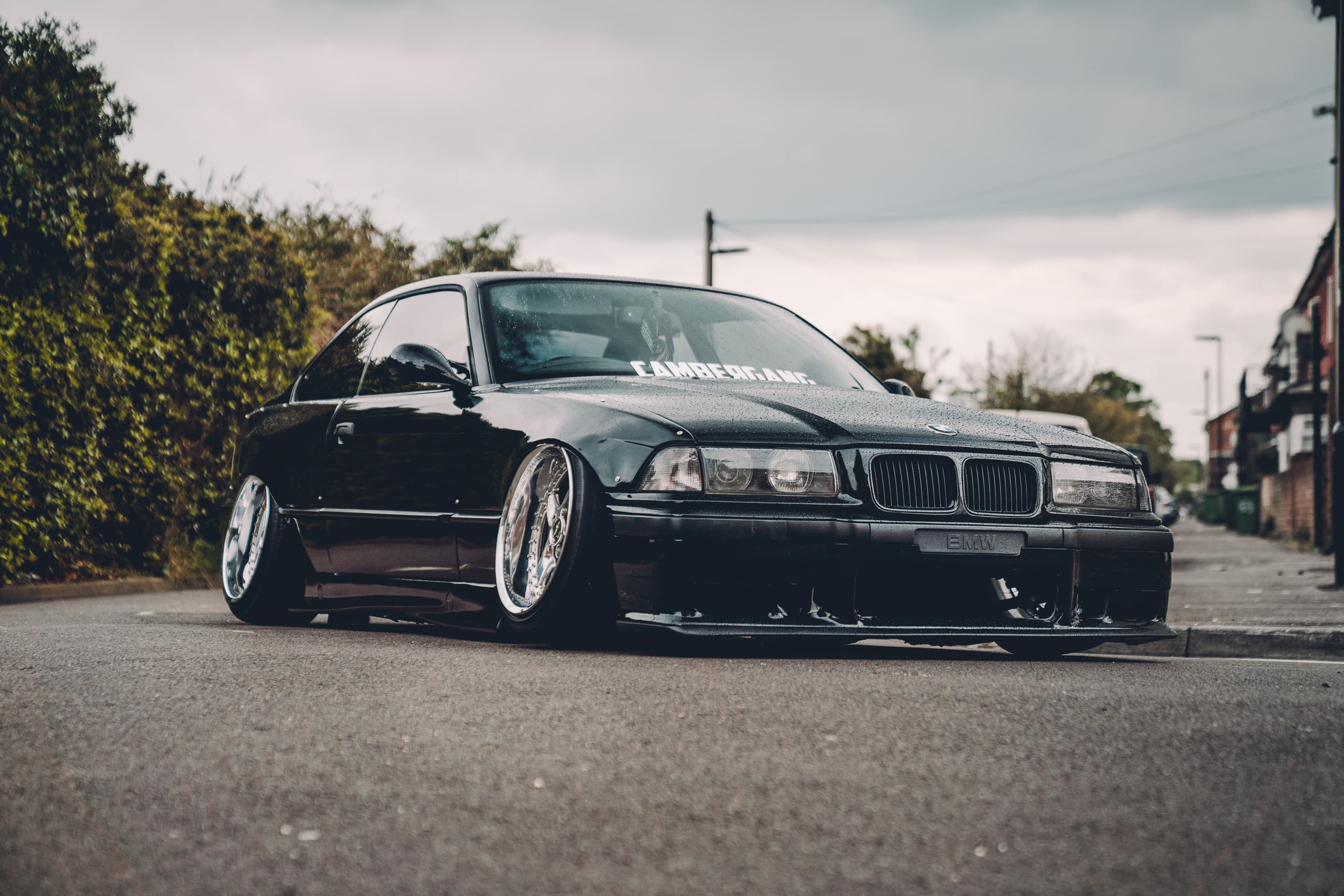 Of course, the easy option would've been to use a set of adapters to mount the JDM wheels, but Joe didn't want to sacrifice dish for the easy life. Instead, all four hubs were drilled and machined to swap the BMW fitment to a Japanese 5×114.3 giving him much more flexibility in terms of future wheel choice and offset.
You might be wondering how you get a matching set of 17/18 Work Equips and the simple answer is buy four sets and whittle them down to one. He's now got two sets in 17×10.5 and 18×11 with matching 4" dishes. That's just one example of the extreme dedication Joe has to this vehicle.
Another is the extended control arms and camber plates, plus the modified camber arms and toe brackets. It allows Joe to create the perfect stance, but it is the tubbed rear arches and extensively massaged inner front arches that allow the car to roll so incredibly low. Inpro clear tails and a shotgun exhaust complete the monochrome theme.
You'll also notice that Joe's absolutely blacked out the windows. It's highly illegal in the UK to do so and it is not because the inside is plain either. Far from it, in fact.
"I just don't like people trying to cop a look at me in traffic. Limo tints mean I can remain incognito," laughs Joe. Inside a period leather Raid 13 wheel sits pride of place and a black hurricane Vader interior compliments a schale fury Recaro.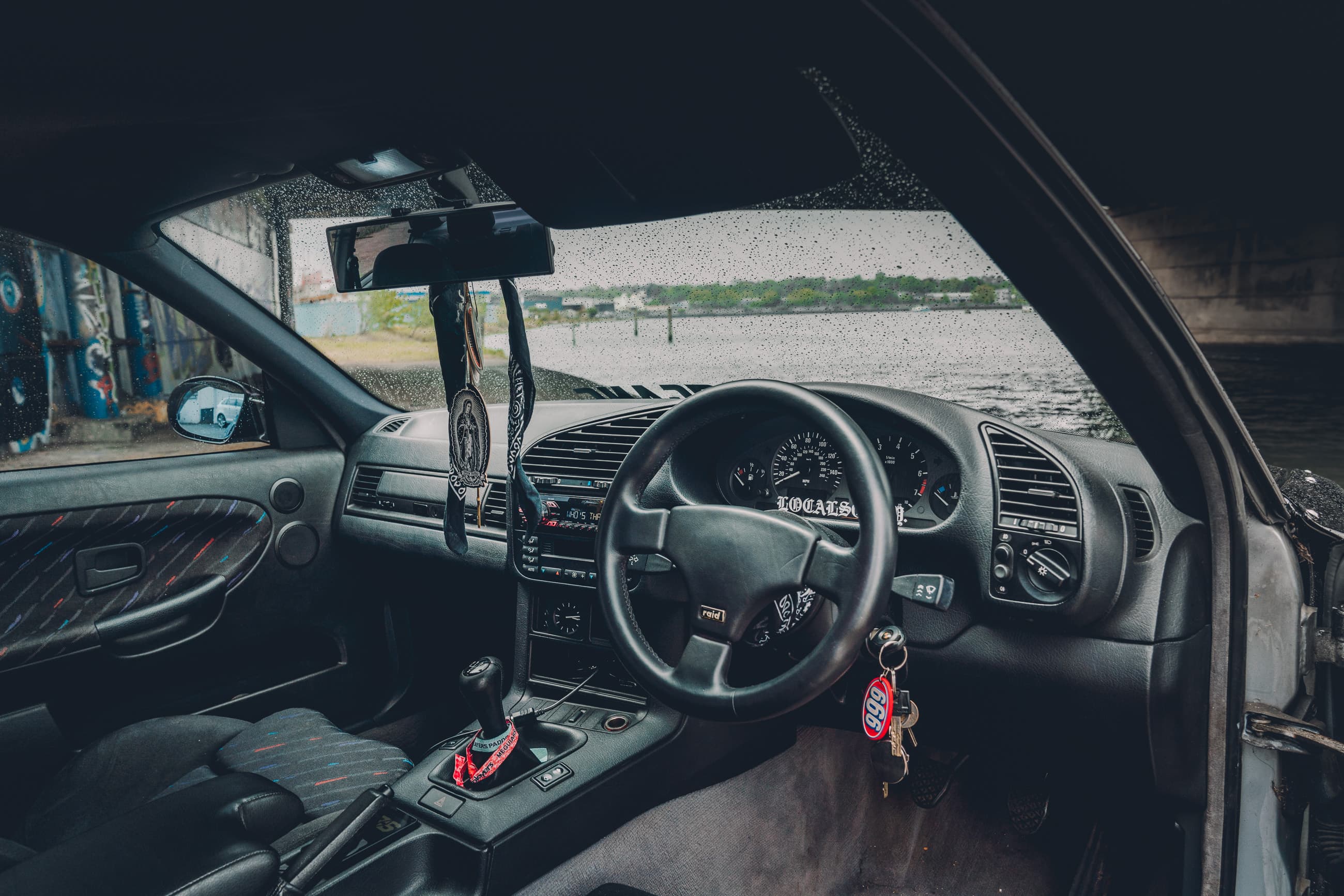 Joe's also swapped in an M50B25 motor and M3 3.15 LSD, so the car can also lay 11s. All the work has been carried out himself, and to a super high standard – the level of engineering to achieve the look is staggering.
So much is his dedication to ultimate lows that he's physically raised the engine to ensure the sump and exhaust remain protected from anything underneath. In fact, the cars sills will hit the floor way before the engine even comes close.
Sounds extreme, because it is. But it means the E36 can drive at just about any height on Air Lift 3S.
"If you're going to do something, you should do it properly," Joe adds, which has been the ethos for his entire build in which he's undertaken just about every task – including the color.
"The wrap owes me about £150 in total. It's not perfect up close, but it looks cool and if I need to do anything again in the future, I can."
We cant see Joe straying from the black and chrome theme, but we understand what he means.
"I could've just fitted the air, slammed it for pictures and then driven it around at an almost factory height, but what's the point? Most of the time the car is being driven, not hard parked. It'd make the car look terrible for the majority of its life. Seeing a car parked up and sitting low is cool, but when you see one rolling on the road – wheels tucked and just millimeters off the ground – that's me."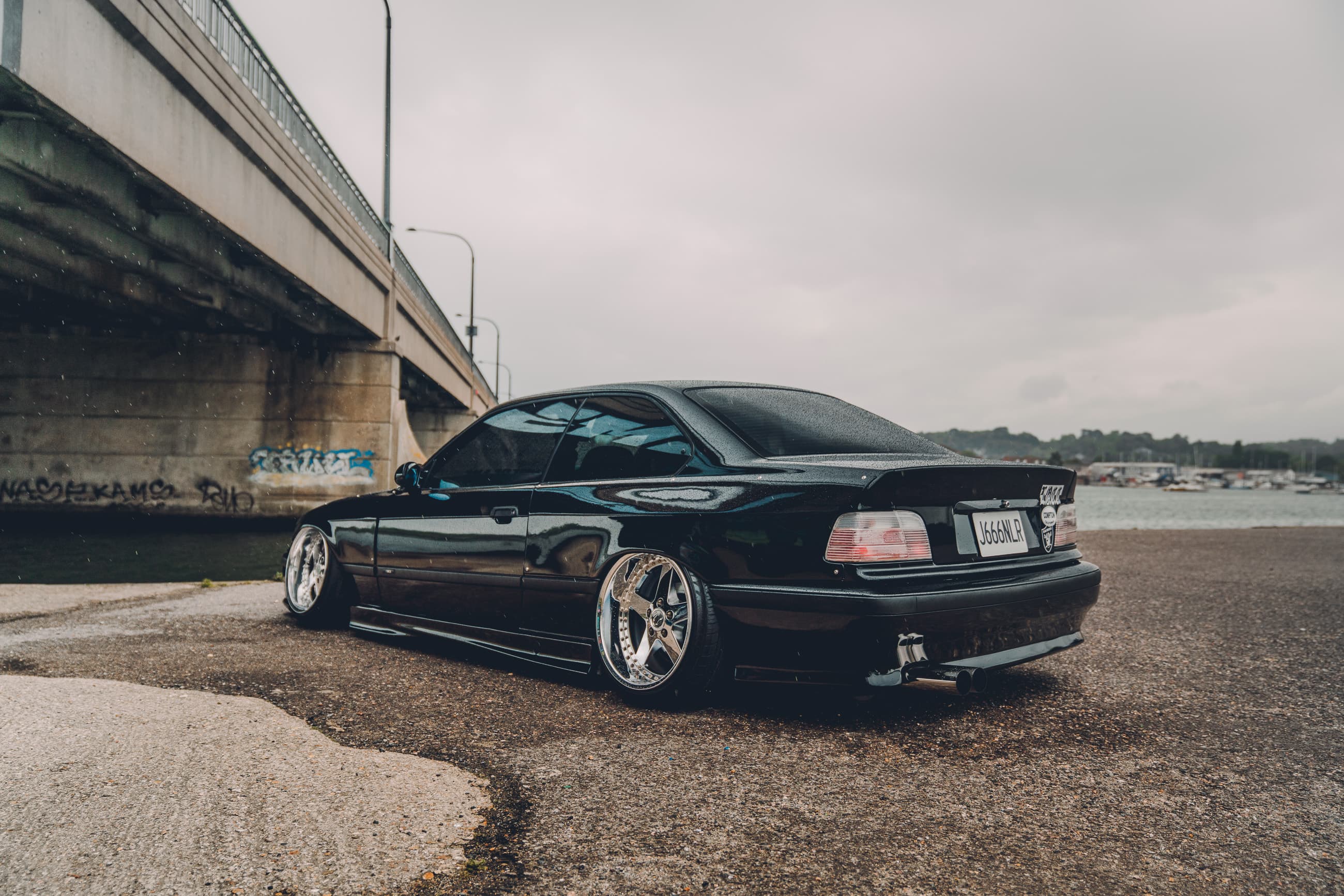 We couldn't agree more.
Drive low, park lower – that's what Air Lift Performance does best, and there's no better proof than Joe's 325i. For more pictures and information hit up Joe's Instagram here: Instagram.com/666joseph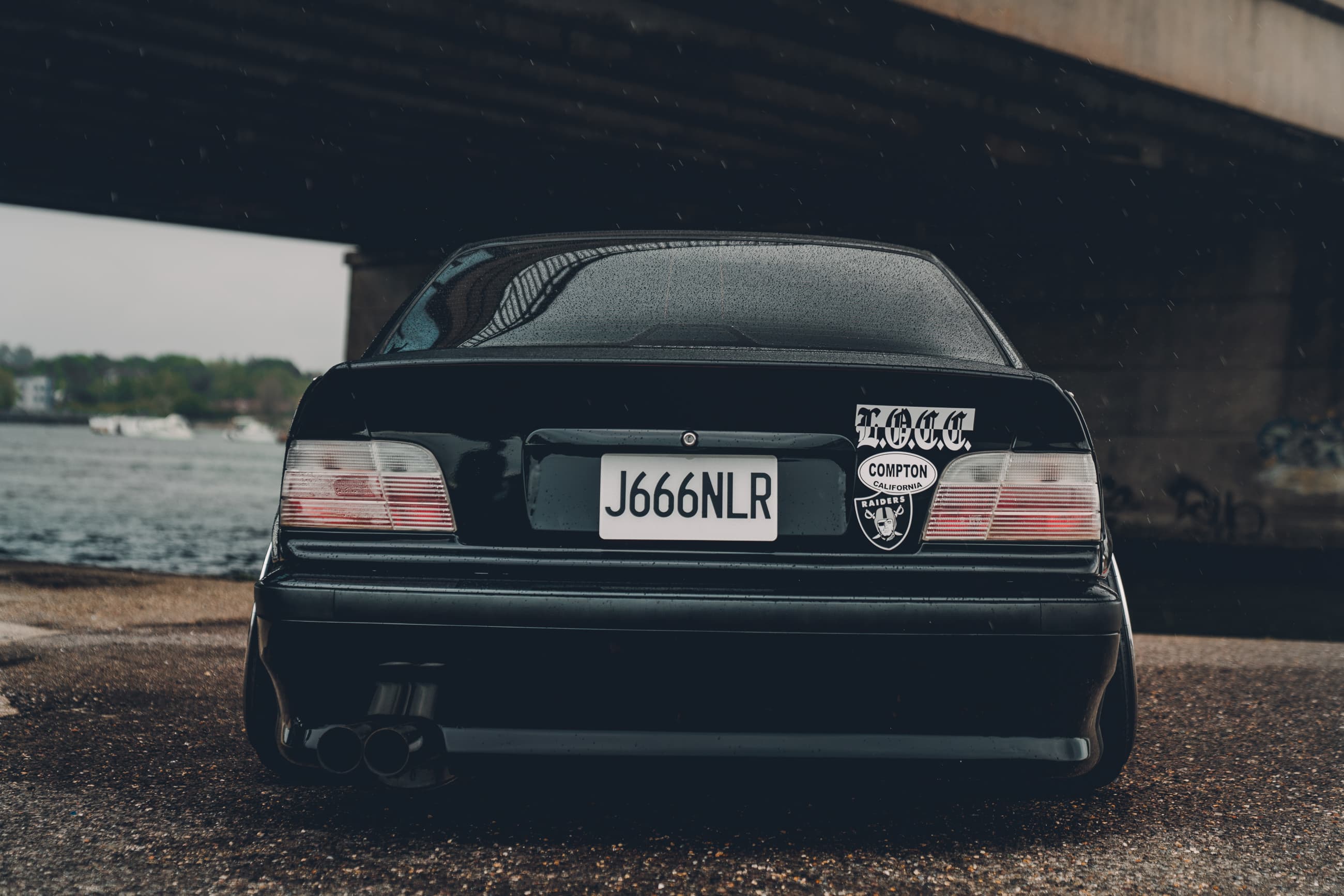 Get The Latest from Air Lift Performance
Want first access to big sale events, performance suspension news, and exclusive drops that sell out quickly?
Subscribe To Our Newsletter