Audi R8 (2008-2015) Performance Series Kit
9/8/2018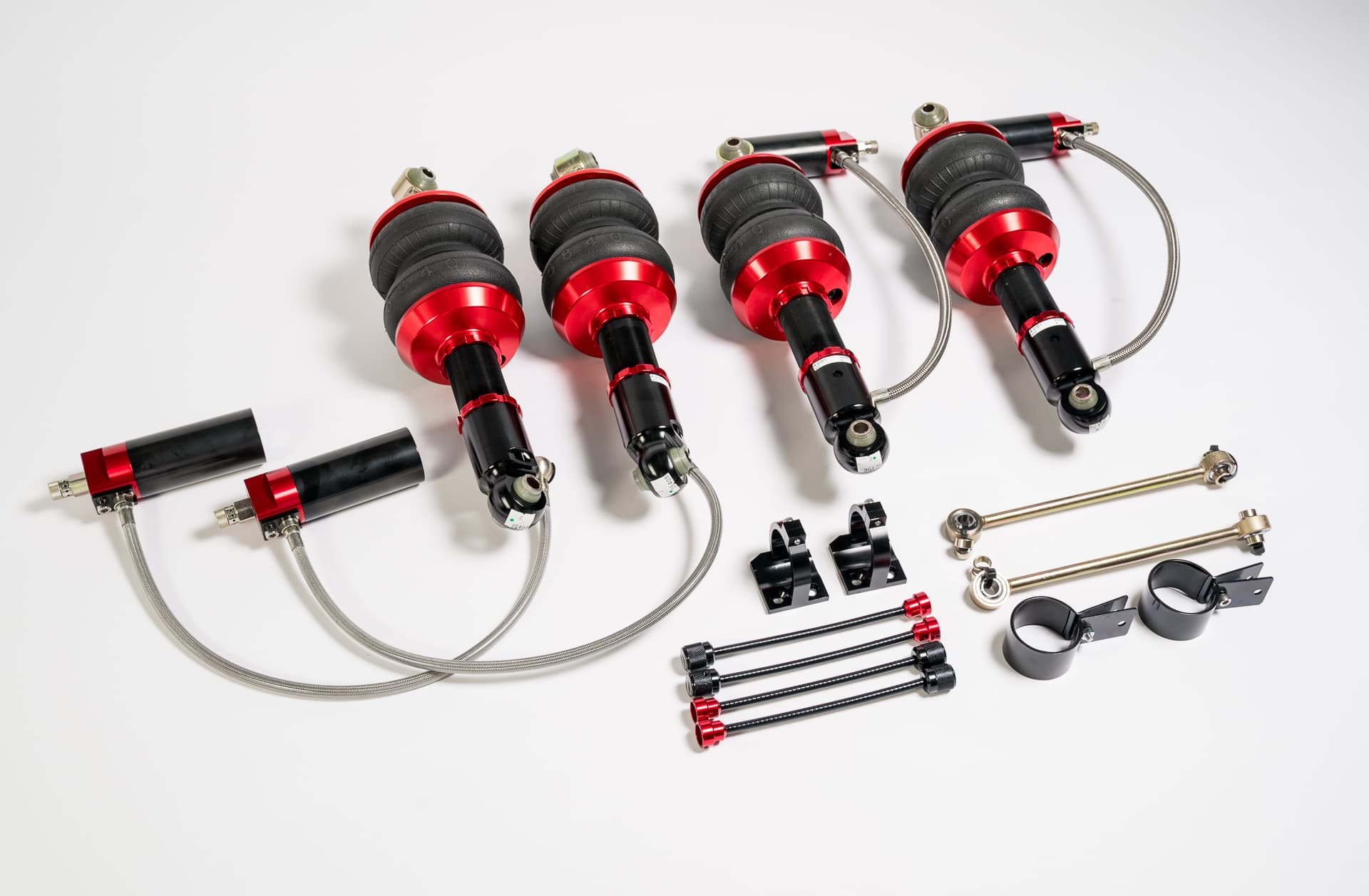 The Audi R8 is a true daily-drivable supercar. The whole vehicle just screams performance – from the polished, sleek exterior to the powerful mid-mounted engine. In fact, the only thing keeping the R8 from being perfect is its ride height! So, Air Lift Performance stepped up their game and gave the R8 the slammed look this performance monster deserves…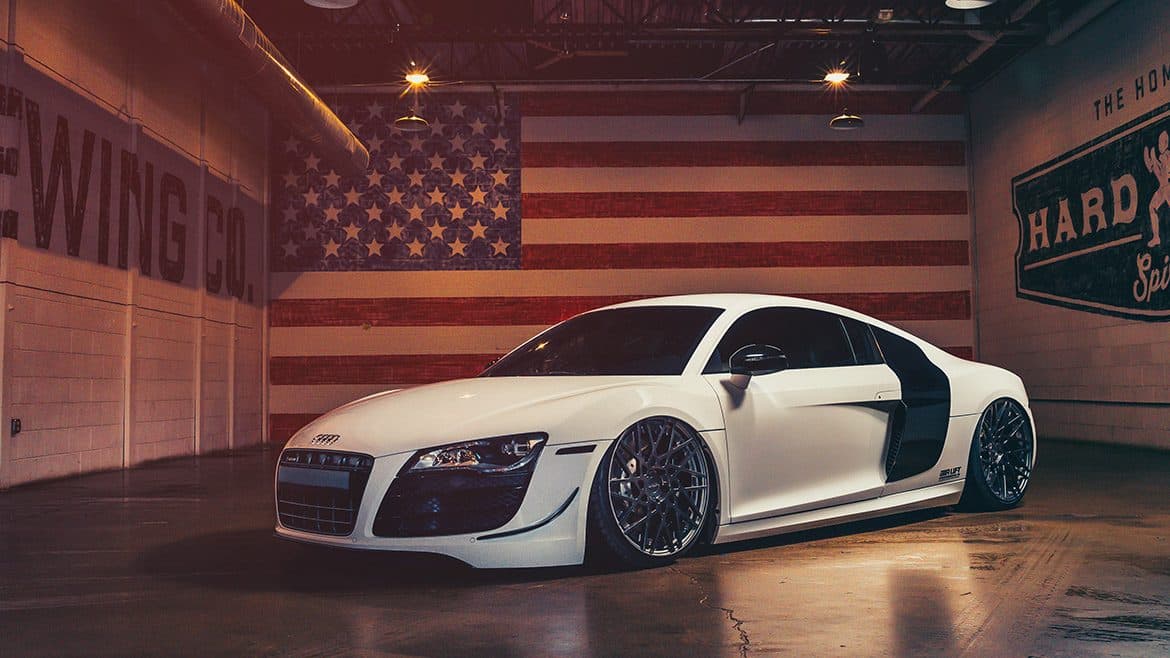 There's no denying the R8 comes from the factory with a world-class suspension system, and as such Air Lift Performance had to create an air suspension solution that'll not only ride low, but also rival the road-handling performance of the existing Audi 'Sport' and 'Comfort' modes. Thankfully, at Air Lift Performance, providing adjustability and customization is our specialty – that means not only getting your R8 on the ground, but also over the bumps, while maintaining ride comfort and performance.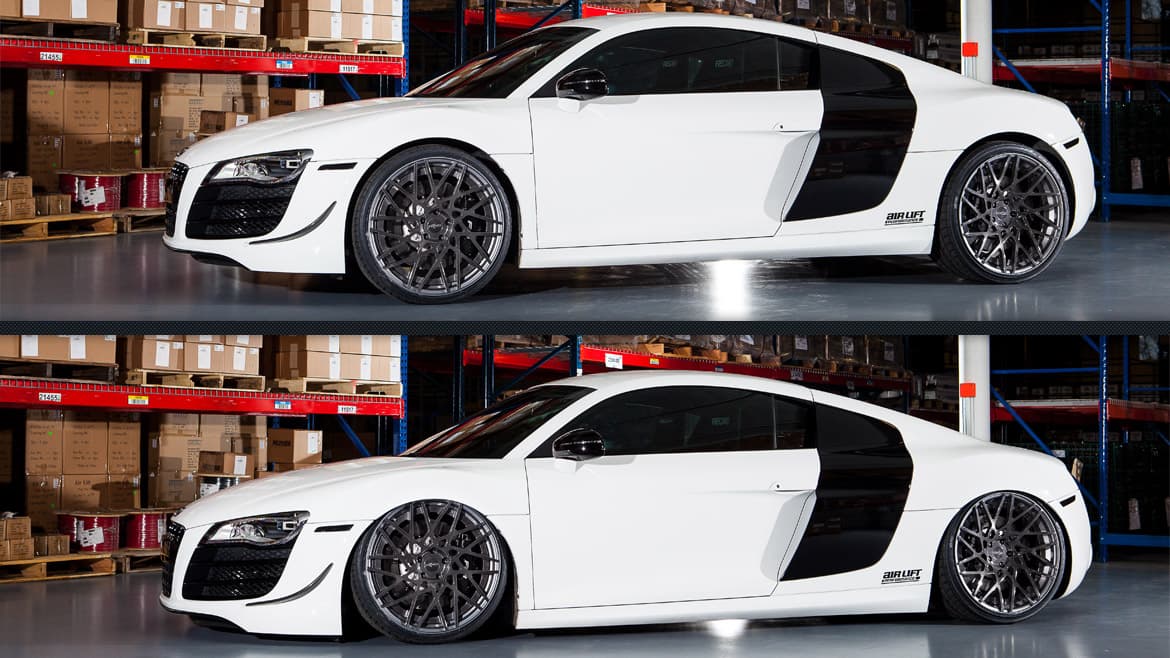 Our engineers made sure the R8 will perform at its absolute best no matter what. You know that you can trust Air Lift Performance because we've got a legacy of performance excellence – from bringing home a win in the first Daytona 500 to victories in today's Redline and Global Time Attack events. In order to drop it down 3.1" from stock in the front, we paired our double-bellow air springs with threaded-body, double-adjustable, monotube dampers.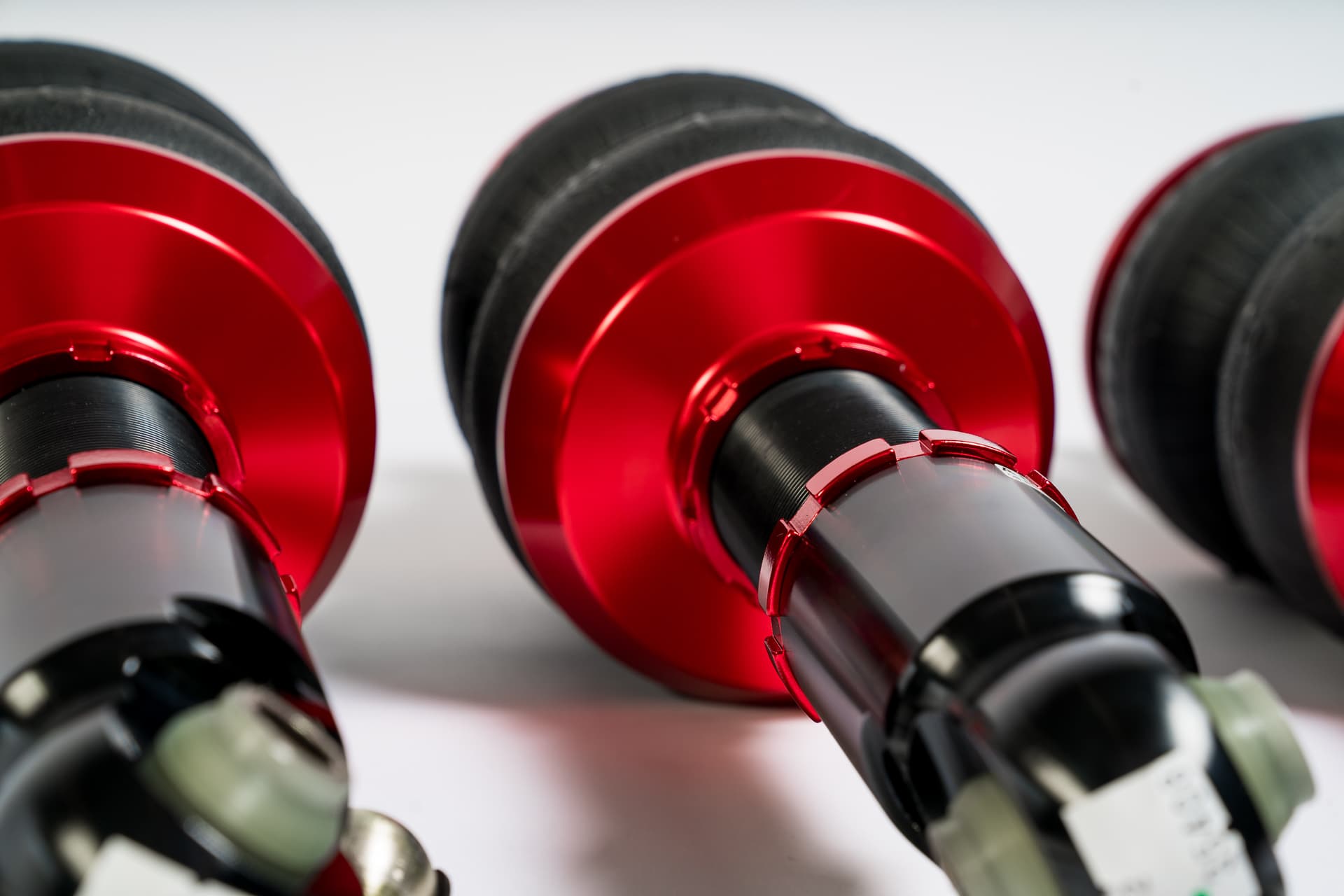 These specialized dampers allow for 30 levels of both rebound and compression adjustability, allowing for a huge range of adjustability, all the way from a super soft "comfort mode" ride to a stiff "sport mode" setup. With the added feature of remote damping control, you know that your R8 will be ready for whatever the road may bring.
In the rear, it's a similar system – double-bellow air springs over threaded-body dampers, again featuring both 30 levels of rebound and compression, preserving the ride quality and performance prowess through complete adjustability. Together, these elements combine to drop you down 2.8" from stock ride height.
The Audi R8 (2008-2015) Performance Series kit is available with a range of Air Lift Performance air-management options, including the innovative 3H height and pressure sensing system. Air Lift Performance used a state-of-the-art 32-bit processor, and advanced height + pressure algorithms, then paired them with a full colour controller with built-in Bluetooth connectivity in order to make 3H the most advanced air management system on the market.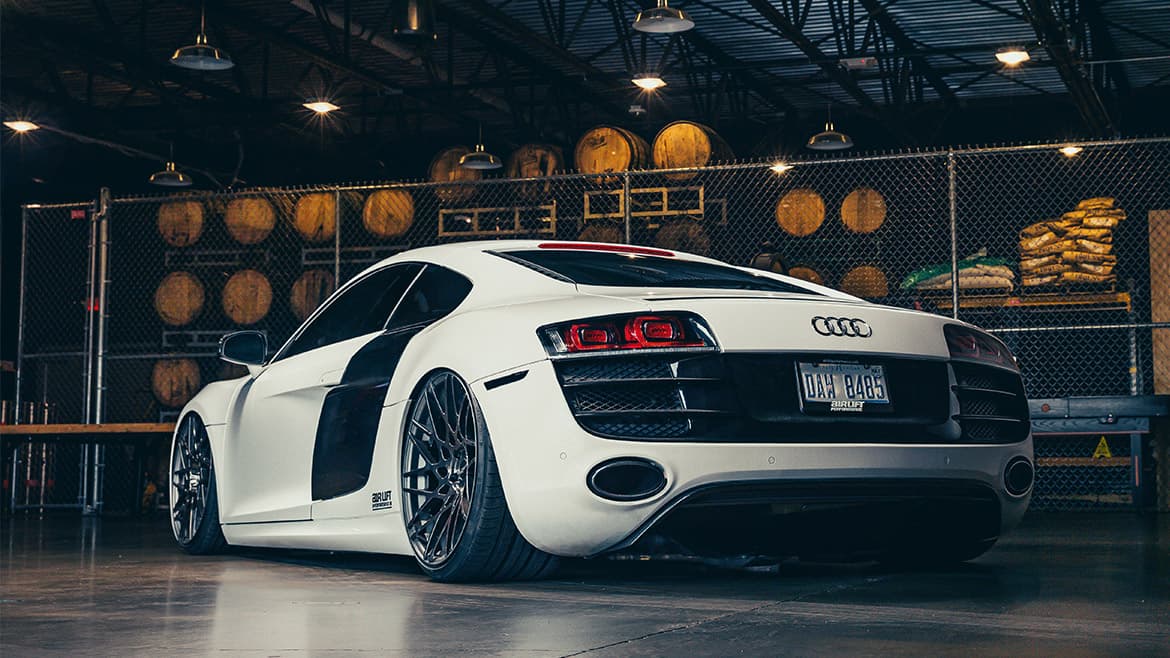 Installation is simple with Air Lift Performance's detailed instruction manuals. Anyone with the skill to wire a stereo and to swap suspension components can have their car on the ground in only a matter of hours. Basic hand tools are the only things necessary to complete the job. Keep in mind that if you are looking for the ultimate low look, some modifications and fabrication will be required.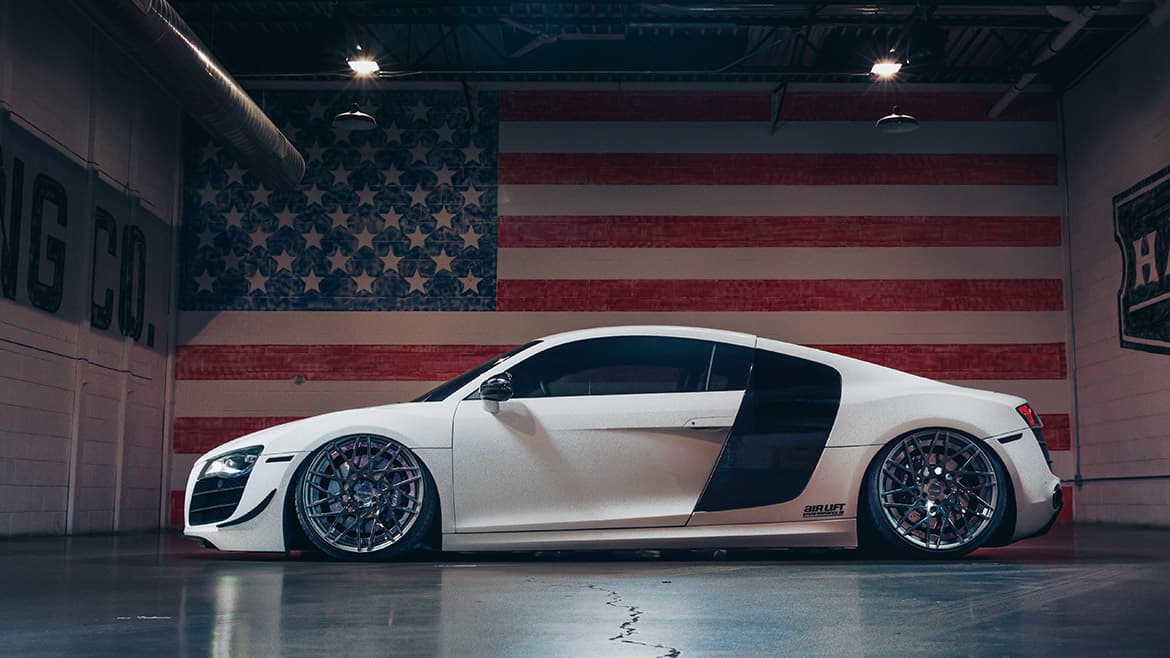 Air Lift Performance tests the components of this kit to 1 million cycles (approximately 100,000 miles) on a hydraulic test rig at temperatures from -30°F to 150°F. This test lab work, coupled with thousands of miles of on-road testing, not to mention a one-year manufacturer's warranty, gives you a kit that you know you can count on to handle whatever the road throws down.
Height Sensor Bracket
Also now available from Air Lift Performance are our vehicle-specific height sensor brackets! Designed specifically for the Audi R8, these no-drill, bolt-on height sensor brackets easily install with our 3H height sensors, allowing you to reach precise vehicle heights, all at the touch of a button.
Height Sensor Bracket Kit: Part # 14032
Fast Facts
30-level damping adjustable monotube front struts and rear shocks
Fits Audi R8 (2008-2015) models
Double-bellow/progressive-rate sleeved bags
Threaded lower mounts on struts
Remote damping extenders
Available with a range of management options
Model Fitment
2008-2015 Audi R8
2011 Audi R8 Spyder
2012 Audi R8 GT
2015 Audi R8 Plus
2004-2009 Lamborghini Gallardo
Installation Details
Modifications Req. Front: Does not use electronic damping control, reroute wire harness to prevent potential damage.
Modifications Req. Rear: Does not use electronic damping control.
Get The Latest from Air Lift Performance
Want first access to big sale events, performance suspension news, and exclusive drops that sell out quickly?
Subscribe To Our Newsletter