Slam Series vs. Performance Series
SLAM SERIES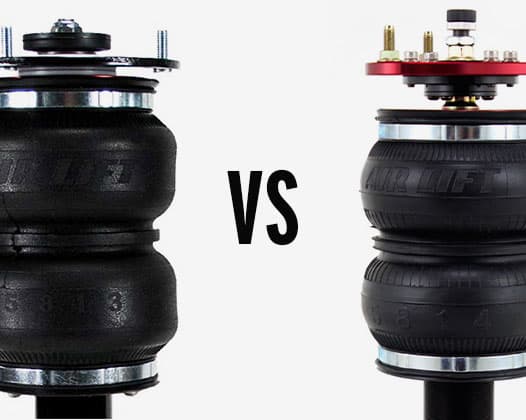 Slam Series air suspension kits are designed to give you a slammed stance without the harsh ride quality of lowered coils. A Slam Series strut or shock features fixed damping, tuned for that specific vehicle, or our 9-level adjustable damping. In most cases, the struts bolt directly in place of the OEM equipment and come complete with our patented, noise-reducing upper mount for a quiet ride.
Depending on the application, you will see either double-bellows or a sleeve-style air spring to support the load of your vehicle. These kits are focused on providing an earth-scraping drop while maintaining great daily ride quality. If you're looking for the most affordable way to get on air, a Slam Series kit is for you.
PERFORMANCE SERIES
Performance Series air suspension kits are the ultimate suspension choice for your ride. All applications feature lightweight monotube shocks/struts with 30-level adjustable damping. Adjustable camber plates are integrated into most struts for perfect alignment or wheel fitment. They are engineered with high-quality spherical bearing upper mounts**, providing instant damper response and precise steering feel.
Another great feature is that the Performance Series shocks/struts have threaded bodies with adjustable mounts; this allows you to alter the factory-set heights to better suit your situation without sacrificing suspension travel. As with the Slam Series kits, Air Lift Performance provides everything needed for easy installation. And while everyone loves how their car looks laid out on the ground, these Performance Series kits are best enjoyed while in motion. The huge range of damping, mated with our progressive rate air springs, allows you to have a comfortable ride on the highway. And with the twist of the damping knob, you have a track-ready suspension poised to cut a fast lap.
Everything about the Performance Series kits is geared towards maximizing your vehicle's suspension: lowest drop, best ride, lowest weight, most adjustability, and incredible handling. All proven on racetracks and back roads around the world.
**All struts feature spherical bearing upper mounts while shocks may or may not, depending on application.
WHICH KIT SHOULD I CHOOSE?
If a Performance Series kit and a Slam Series kit are both available for your application, which should you choose? Well, that depends a lot on your priorities. If you're budget-minded and looking for daily-driven versatility and maximum drop, go with our Slam Series kit! However, if your plans include high-performance driving, or you want all of the added features and adjustability, then a Performance Series kit should be on your list of ride upgrades.
| | Slam Series | Performance Series |
| --- | --- | --- |
| Shock/Strut Construction | Twin-tube | Monotube |
| Shock/Strut Damping Adjustment | None or 9-level | 30-level |
| Shock/Strut Bodies | Non-threaded | Threaded |
| Upper Mount | Rubber | Spherical bearing on all struts and some shocks |
| Camber/Caster Adjustment | No | Camber plates on most struts, caster adjustment on some struts |
| Air Spring Style | Sleeve or bellows | Sleeve or bellows |
| Finish | Powder-coated black with anodized red accents | Black chrome damper bodies, black anodized or powder-coated mounts, and bright red anodized accents |
| Warranty | 1-Year Limited or 2-Year Limited | 1-Year Limited or 2-Year Limited |
| Installation Hardware | Included | Included |
Be sure to check out what others are saying on our social feeds and read in-depth user profiles in our #lifeonair blog series.